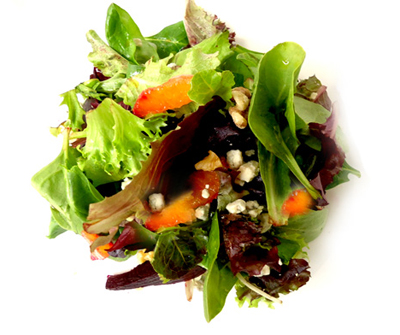 Homemade vinaigrettes just taste better and it's really worth the extra few minutes it takes to shake up a batch in jar.
I like to use this recipe during the winter, when there are lots of great citrus fruits to choose from in the grovery store.
Blood oranges, clemetines, or any favorite orange make a nice additiion to this simple green salad and compliment the marmalade in the vinaigrette.
Mixed Green Arugula Salad with Orange Marmalade Vinaigrette
Vinaigrette:
6 tablespoons extra virgin olive oil
3 tablespoons orange marmalade
3 tablespoons red wine vinegar (or fresh squeezed lemon juice)
1 medium shallot
1 teaspoon mayonnaise
1/2 teaspoon Dijon mustard
1 teaspoon minced fresh thyme leaves
Salt and ground black pepper, to taste
1. Shake all the ingredients together in a jar with a tight fitting lid and refrigerate for up to 2 days.
Salad:
4 cups lightly packed stemmed arugula
4 cups lightly packed mesclun greens
4 medium radishes, sliced thin
2-3 Clementine oranges or blood oranges, peeled, cut into segments, segments halved and drained to remove excess juice
3 ounces feta cheese (or bleu cheese) crumbled (3/4 cup)
1/2 cup chopped pecans, toasted
1. If refrigerated, let vinaigrette sit at room temperature to allow the oil to liquefy. Toss the greens and radishes together in large bowl. Add dressing (start with a few tablespoons, and add more to taste) and toss the salad to combine. Add oranges, feta and chopped nuts and toss gently to combine and serve immediately.
James Moore has been a cooking enthusiast since childhood and started blogging as a way to share favorite recipes with friends and family. His site, Cook Like James has grown to include restaurants, cookbooks, wines, and favorite places.