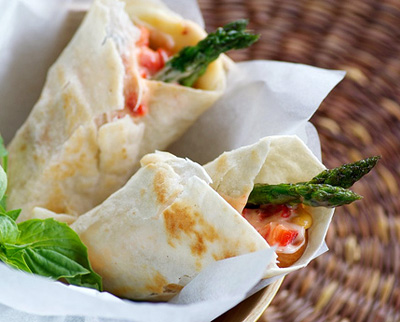 Makes 4 servings
1 medium eggplant, sliced into 1/2-inch thick rounds (about 10-12 slices)
16 asparagus spears, bottoms trimmed
1 tablespoon olive oil
1/8 teaspoon salt
1/8 teaspoon freshly ground black pepper
1/4 cup reduced-fat or soy mayo
2 tablespoons minced roasted red peppers
4 (6-inch) whole wheat tortillas
4 ounces shredded smoked mozzarella or smoked gouda cheese
8 fresh basil leaves
1. Preheat oven broiler. Line a large rimmed baking sheet with aluminum foil. Lay eggplant slices and asparagus on the sheet, not overlapping. Brush asparagus and both sides of the eggplant slices with olive oil and sprinkle with salt and pepper. Broil for 7-8 minutes or until browned. Since asparagus cooks quickly, it may be cooked at this point and can be transferred to a plate. Flip eggplant slices, and broil another 4-5 minutes or until lightly browned. Remove from oven.
2. In a small bowl whisk mayo and red peppers. Set aside.
3. In a medium dry skillet over medium-high heat, warm tortillas for 30-60 seconds on each side. To assemble wraps, place a tortilla on a flat working surface. Spread with 1/4 red pepper mayo. Top with 1 ounce cheese, 2-3 slices eggplant, 4 asparagus stalks, and 2 basil leaves. Roll up, and wrap tightly in aluminum foil before packing. Repeat with remaining ingredients.
- Recipe courtesy of Susan Russo