Waffles and more...
by Amy Ephron
One for the Table is dedicated to the notion that one of the things that's wrong with the world is that there aren't enough waffles in it and everyone should sometimes, not all the time, but sometimes order "one for the table".
It's about finding excellence at a roadside cafe, shopping local, a great jam, a great hot dog, an artisan cheese from Sonoma or a gouda made in an American monastery, french mustard, Japanese ono, a round tablecloth, an Italian butter dish. It's about a perfect fried fish sandwich (and seeing a whale jump out of the water), a perfect baked potato (not as easy as one would think), a perfect chocolate cake (that you only make on special occasions every nine years), your mother's lasagna (or in my case, bouillabaisse).
It's about elegance and simplicity. It's about having a philosophy about life that extends to the choice of ingredients, fresh and otherwise, (ecological within reason), the way you entertain, the placement of flowers in a vase, the careful way you sometimes scramble an egg or simply butter a piece of toast and conversely a sort of casual chaos that allows you to whip up dinner for 12, just because you suddenly look up and there are 12 people for dinner.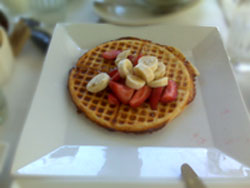 Chicago


by

Sue Doeden





Located along the south end of Lincoln Park along Clark Avenue, Chicago's Green City Market bustled with activity on Saturday morning. Young parents pulling wagons loaded with children eating an...

Read more...

Arizona


by

Lisa Dinsmore





One of the things I love most about traveling is finding out-of-the-way places to visit. Especially ones that have a cool history to go along with their surroundings. Which is how we found...

Read more...

Los Angeles


by

Maia Harari





My mom makes the greatest hamburger in the world. I don't know how she does it — it's not the cut of the meat or the way she marinades it (she doesn't) or the fact that it's organic (which it is)...

Read more...

New England


by

Melanie Chartoff





I hail from New Haven, although I've frankly never in my life hailed, even for a taxi cab. It's simply not my style. I visit the Elm City (although I'm not sure why it's nicknamed thus as all the...

Read more...