Waffles and more...
by Amy Ephron
One for the Table is dedicated to the notion that one of the things that's wrong with the world is that there aren't enough waffles in it and everyone should sometimes, not all the time, but sometimes order "one for the table".
It's about finding excellence at a roadside cafe, shopping local, a great jam, a great hot dog, an artisan cheese from Sonoma or a gouda made in an American monastery, french mustard, Japanese ono, a round tablecloth, an Italian butter dish. It's about a perfect fried fish sandwich (and seeing a whale jump out of the water), a perfect baked potato (not as easy as one would think), a perfect chocolate cake (that you only make on special occasions every nine years), your mother's lasagna (or in my case, bouillabaisse).
It's about elegance and simplicity. It's about having a philosophy about life that extends to the choice of ingredients, fresh and otherwise, (ecological within reason), the way you entertain, the placement of flowers in a vase, the careful way you sometimes scramble an egg or simply butter a piece of toast and conversely a sort of casual chaos that allows you to whip up dinner for 12, just because you suddenly look up and there are 12 people for dinner.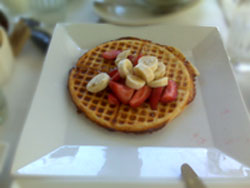 Los Angeles


by

Carolan Nathan





- A Pleasant Surprise

Having almost given up on the Italian cucina here in Los Angeles, I was very pleased to enjoy the offerings of this ristorante. It was a whim that brought me there and also...

Read more...

Los Angeles


by

Jo Stougaard





My first taste of Chef Josiah Citrin's cooking was at the James Beard "Chefs and Champagne" event in May. Melisse served a Spring Veal with Anson Mills Polenta, Morel Essence and Red Wine Jus. I...

Read more...

Los Angeles


by

Lisa Dinsmore





Though I've lived in Los Angeles for two decades, I still don't consider myself an Angeleno. Mostly because we rarely do anything that's considered interesting or hip in this vast and...

Read more...

New York


by

Michael Tucker





I had an experience the other night that was right out of Larry David's universe or Seinfeld's. A classic. I'll try to describe it for you.

It was around 9:45 and I was at Danji, the wonderful...

Read more...