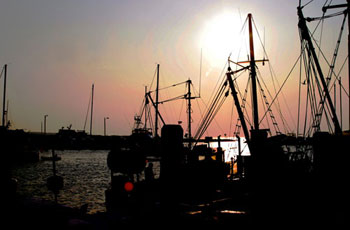 Above the title of our local paper, the VINEYARD GAZETTE, is the pithy quote (they always have a pithy quote), "With rod and tackle box, I'm slogging through soft sand, A red sun going down in the surf, Swag-belly clouds drifting in," authored by Peter Makuck. Just below the Gazette title is its mission statement: "Devoted to the interest of the six towns on the Island of Martha's Vineyard."
The world simply does not intrude on the Vineyard!
This week the above the crease headline reads, "Patricia Neal – Sparkling Stories And Sunflowers To Say Goodbye." (We will all miss that dame!) Near it is the 'shocking' story of a Trustee who nearly – nearly! – Ran over a nest of LEAST TERN CHICKS on the barrier beach, forcing his resignation. (If only our federal government could function with this kind of immediate civic responsibility!)
The Vineyard Gazette is as good an introduction to Martha's Vineyard as anything I know. Even its dimensions – larger than most newspapers – forces one to sit back (preferably in a rocking chair), open the paper and read... not scan, but read! We people on this Island actually still read, support bookstores, treat authors most gently, and buy local painters. In other words, we love this Island and the eccentric characters that reside here. And, eccentric we all are!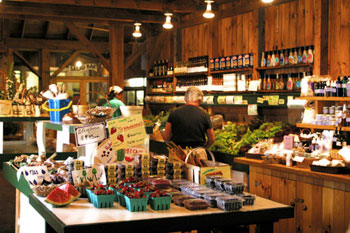 We also love local produce, and during the summer there are farmers' markets that sells only Vineyard products and produce such as preserved jams, red, white and blue potatoes, all sorts of delicious squash, beets, kale, red and yellow onions, shallots, leeks, Swiss chard, plum and grape tomatoes, sweet white corn, herbs, wheat grass, freshly baked breads, a variety of salad greens, squash blossoms.... And local flowers that change as the days do including this week great happy-faced sunflowers! Even our own little organic co-op farm has enough chickens, flowers, and fresh produce to keep us all country-fresh for the summer. And, how wonderful it is to experience real farm food picked the day you eat it! Beside the weekly outdoor farmer's market (a great place to people-watch) there are farm stands by the side of the road that have just-picked produce or flowers arranged in coffee cans with an honor system of paying for them.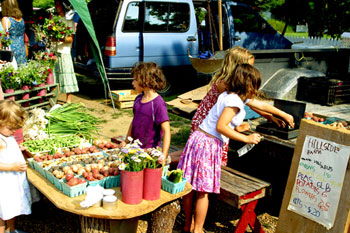 My favorite source of all things delicious is Fiddlehead Farm, which touts itself as "Custom Provisioning" – and well it should. While it appears virtually a shack by the side of the road, it lacks for nothing! To quote their calling card, "One of the many ways we set ourselves apart from nearly every other store is by acting as provisioners in the traditional sense. Sure we're a farm market, a bit of a bakery, charcuterie, fromagerie, a grocery, a gourmet store all rolled into one but we like to think of ourselves as old-time provisioners who hand select every product for our clientele. (All this on a calling card!!) Here I can buy my Maldon sea salt, farro and other exotic Italian pasta, outrageous creamy cheeses, all the while chatting up my own "personal provisioner!"
We have fresh clamming, crabbing, incredible oyster beds in Katama, lobsters traps in front of our home, locally caught (and never frozen) cod, flounder, blue fish, sole, and fresh local meat – think of it – local farmers that sell their own chickens, lamb and other farm raised meats... Summer on the Vineyard is truly an opportunity to celebrate the awesome simple pleasures of the moment.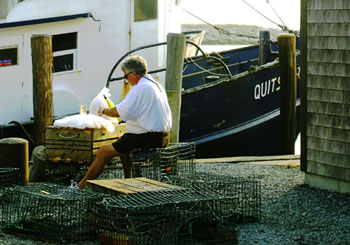 Nothing is better than freshly made lobster rolls, locally caught fish burgers, home-smoked blue fish, oysters harvested just hours before, real New England Clam Bakes on the beach... There is a gentle – often solitary – tradition in Menemsha, our local fisherman's port, to bring a bottle (or two) of a fine white wine, order Fried Clams from The Bite and a Steamed Lobster, from Larsen's, pull up a crate and dine on the dock as the fishing boats come in and the sun sets behind them!
I love the simple joy of picking squash blossoms from the back garden and stuffing them as a first course or outdoors as a late afternoon treat with a glass of Provencal Rose. Our old friend, Roger Verger gave us his recipe, via our French Chef Annie – who he allowed to train in his kitchen! (Sigh... Summers in the south of France – years ago) It has altered a bit over the years – so from memory:
Roger Verger's STUFFED SQUASH BLOSSOMS
Fresh squash blossoms picked the morning they open (On the Vineyard there are two reasons to harvest blossoms early – the second being the urgent need pick them before the deer do!) and stored in the refrigerator up to two days only. Female blossoms are preferred as they have delicate tiny squash attached – an added treat – as they are the sweetest when they are new...
Chopped fresh garden herbs such as dill, basil or mint
1 shallot finely chopped and sautéed in butter until soft
A mild cheese such as chevre, ricotta, or shredded mozzarella
Salt and pepper to taste
Eggs
Flour
Oil
Combine the freshly chopped garden herbs, chopped shallot, cheese, and salt and pepper...
Carefully stuff the mixture into the center of the blossom (or use a pastry bag). Beat the eggs in a shallow bowl and carefully roll the stuffed blossoms in the beaten egg. Lightly dust with flour and gently slip the blossom into a skillet with hot oil, cooking one or two minutes per side only. Place them on paper towels. Serve immediately.
From Roger Verger's CUISINE OF THE SUN, the perfect cookbook to bring to the Vineyard, here is a recipe for Oysters Gratin that is beyond yummy. Since eating raw Oysters is nearly everyone's favorite source of immediate gratification, it will takes a bit of nerve to serve them this way, but it is worth the slings and arrows...
GRATIN DE BELONS AU CHAMPAGNE
(Serves two as first course)
12 Katama Oysters (OK ... 12 Oysters)
3½ oz raw spinach
3 Tablespoons extra dry Brute Champagne taken from the bottle to be drunk with the dish
1 egg yolk
6 tablespoons chilled single cream
1/2 oz butter
Handful seaweed
Course salt and pepper
Shuck the Oysters and carefully remove them from their shells with a teaspoon. This operation should be carried out over a strainer held over a small saucepan to catch the juices. Reserve the hollow halves of the shells. Add the 3 tablespoons champagne to the small pan, adding a little pepper. Bring to a boil, and then reduce over a medium heat until no more than 2 tablespoons of liquid remain. Meanwhile plunge the oysters into very icy cold water for about 20 seconds to firm them up using a slotted spoon.
Pick over and trim the spinach and wash thoroughly. Cook in a minimum of boiling salted water, uncovered for about 3-4 minutes. Refresh in cold water, drain and squeeze out the moisture. Chop coarsely with a knife.
Spread about 7 oz. of course salt on a gratin dish which can fit under a grill, and set the concave shells firmly in it. Dry in a low oven for 5 minutes and keep hot.
Whisk the cream until it is slightly thick and add the egg yolk. Then whisk this mixture vigorously into the champagne reduction in the small saucepan. Heat through, whisking all the time and without boiling - which would coagulate the egg and ruin the sauce. When the sauce has thickened a little, remove from the heat and taste for seasoning.
Heat the grill until it is really hot. Meanwhile, reheat the spinach with a nut of butter. Then put a little spinach in each hot shell. Place an oyster on each and cover lightly with the sauce. Place the gratin dish under the grill until the sauce has formed a golden skin.
Make nest of seaweed on two large plates and plant six shells on each. Serve very hot with Champagne.
AND, NOW FOR SOMETHING DIFFERENT!
Kale – I don't think I knowingly have ever had Kale (it is just too close to "eat your spinach" for me to volunteer to try it) but it is a popular green on the Island – in part due to the Portuguese that came from the Azores during old whaling days. During the annual Feast of the Holy Ghost sponsored by the local St. John's Holy Ghost Society, Holy Ghost Soup – the origins of which go back to the old country – is prepared and feed free to hundreds of residents.
HOLY GHOST SOUP
This recipe comes from the Martha's Vineyard cookbook by Louise Tate King and Jean Stewart Wexler.
If I ever do try Kale, this will be the recipe that will get me to do it...
(Serves 6-8 portions)
2 lbs marrowbones cut into 3 inch pieces
Vegetable oil (if needed)
3 lbs beef chuck, cut in 1-inch cubes
4 medium onions, coarsely chopped
Salt and freshly ground pepper to taste
1 bay leaf
4 allspice seeds
3 whole cloves garlic
8-10 cups water
3-4 hot Italian sausages sliced ½ inch thick
3-4 medium potatoes peeled and cut into 1 inch cubes
I lb kale, coarsely shredded
Lots of Portuguese, French or Italian bread
Brown the marrowbones in a heavy 8-quart kettle over moderately high heat until the marrow can be extracted. Reserve the bones. Using the marrow (and a little oil if needed) brown the meat and then the onions. Add salt and pepper to taste, the bay leaf, allspice, and garlic. Return the marrowbones to the kettle and add the water enough to cover all ingredients by at least 2-3 inches. Simmer over low heat, covered until beef is tender, about 2 hours. Add sausage, potatoes and kale and simmer another ½ hour.
Slice the bread into 2-inch chunks; crisp them in a preheated 400F oven for about 10 minutes. Place one or two pieces in each bowl, lay several sprigs fresh mint over the bread and ladle the soup over bread and mint. Serve immediately before bread softens.
NOTE: An Azorean version of kale soup, also popular among the Vineyard Portuguese community, calls for simmering a large shinbone with chopped onions for 2 hours, then adding kale, linguica, potatoes, a can of kidney beans, and sometimes chopped fresh tomatoes and fresh peas. After these have simmered 20 minutes or so, chopped fresh mint is tossed in and simmered briefly. The meat is removed from the shinbone and cut into small pieces before the soup is served. Flavor is improved if it is allowed to mellow a day or two before being eaten.
Nancy Ellison, award winning photojournalist and celebrity portraitist, has authored fourteen books of photographs, including "Romeo and Juliet: The Love Story in Dance" and "Starlet". Her newest book, "Wagner's Eternal Ring" will be published this September by Rizzoli.