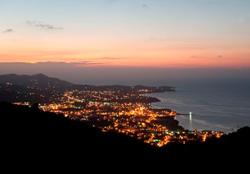 Of course you surely know the only reason to travel is to eat, so when I got an invitation to attend the St. Croix Food and Wine Experience, I jumped at the chance. I admit to a bit of hidden skepticism. I mean how could an island sitting in the middle of the Caribbean Sea possibly have any interesting food?
I've been to several different spots in the Caribbean and have been universally underwhelmed, with one exception on St. Lucia where I met a stupendous Swedish chef running a five star restaurant in a waterfront hotel. That was Bobo Bergstrom's "The Edge", and he, who started his career as a mere boy cooking for the Swedish court, turns out astonishing Eurobbean Haute Cuisine, but I digress.
St. Croix is a different sort of place from the frenchified St. Lucia. It is the very soul of the American Virgin Islands and the choice for those who want to understand the culture and heart of the Virgin Islands. It's exotic and foreign but you don't need a passport and you will understand the money. It's good old Dollar Bills.
The island is located just south of Puerto Rico and not hard to get to. Usually people fly to San Juan and then it's a 20 minute inter-island hop to the island located in the lesser Antilles. But the best part of it is that the food there is stupendous.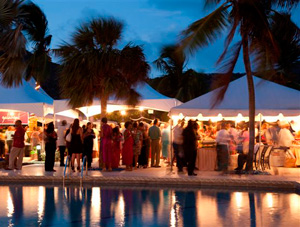 The St. Croix Food and Wine Experience had 57 entries from this island of 50,000 hungry souls and raised $85,000 for its charities in this, its ninth year of operation. I helped out in the back with the photographers who took a beauty shot of every entry. I was stunned to see the quality of the food, and the entrants ranged from sophisticated five star restaurants to the local vocational training high school which won a prize for presentation which it richly deserved.
The winning entrée came from Zebo's and was a Lobster Stock and Coconut Cream Braised Short Rib, which sounds weird but tasted great. The chef from Zebo's, a young, skinny kid named Brian Wisbauer, who wears his head shaved except for an exaggerated tall and scary looking Mohawk, is quite an extraordinary chef. Brian creates original and tasty recipes for Zebo's and they were mostly a surprise to me. Like Brian's mac 'n cheese. How did that happen?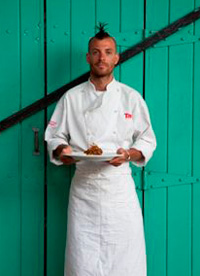 To my great surprise Mac 'n Cheese appeared on menu after menu in eateries from haute cuisine down to the indigenous diner. Call it the macification of the Caribbean. These folks love their mac 'n cheese. I tried a half dozens versions but must say the chef with the Mohawk had them beat, hands down. Now this makes almost no sense at all when you consider that the island was established 300 year ago by the Danes, and staffed by African slaves who were put to work cutting sugar cane on the island, when it was a major sugar supplier for Europe and North America.
At the time the sugar trade was as profitable as later cocaine trades, and we know the reason why. Once Americans and Europeans developed a taste for the stuff, there was no stopping them. So all of the Caribbean was engaged in a furiously productive enterprise, raising cane (yes it really does have that meaning) squeezing the juice and boiling it down. To make loaf sugar, molasses, and the basis for luscious Cruzan rum.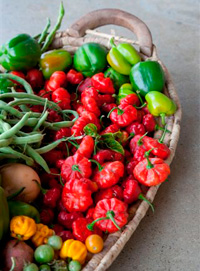 You can see ghostly remnants of this once prosperous trade in ruins, and mansions and tall sugar towers that were powered by windmills to squeeze the cane. But back to the mac 'n cheese. Why do they like it here in the tropics? Curried goat, I get it. Wahoo in a citrus sauce, I get it. Rum drinks made with the dazzling Cruzan Aged Rum in a thousand iterations with sugary sweet yummy good fruit juices beyond counting, I get it. But mac and cheese? Where did that come from?
Perhaps that's the American part of this cuisine on the island where Christopher Columbus may or may not have set food in 1493 on his second voyage to the Americas. But all I can say is no wonder Columbus kept coming back. The sea is full of spiny lobsters and fish. The trees dripped with fruits from mango to cashew with maiden apples, guava, sugar apples, soursop, papaya and prickly pear. But even Christopher Columbus might not have imagined that mac and cheese would become a staple of the island cuisine.
Notice how nobody ever writes macaroni and cheese? It's mac 'n cheese. That may be what makes this dish so purely American, and nowhere more at home than the U.S. Virgin Island known as St. Croix.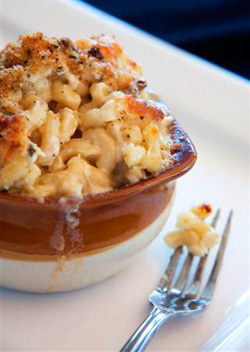 Zebo's Wild mushroom Mac `n Cheese with Black Truffles, White Truffle Oil & Parmigiano-Sage Crust
Yields 6-8 appetizer-sized bowls
2# elbow macaroni, cooked al dente
1½ cup heavy cream
2 tablespoons Goat's milk creme fraiche, regular creme fraiche or sour cream
1/4 cup blue-veined cheese, Stilton, Gorgonzola or Roquefort are best
1/8 cup aged cheddar
2 cups mixed wild mushrooms
2 oz. shaved black truffles, fresh or canned
1 oz. white truffle oil
1/4 cup good bread crumbs
1/4 cup freshly grated parmigiano cheese
3 tablespoons chopped fresh sage
Salt & Pepper to taste
In a 14" skillet, sauté the wild mushrooms with a little olive oil until they have cooked down to half their original size. Add heavy cream, 1/2 the parmigiano cheese, all of the cheddar, blue & crème fraiche. Reduce to 3/4, add the cooked-off macaroni, salt, pepper & both truffle products. Portion out into 6 oven-safe bowls & top with remaining parmigiano, sage & bread crumbs. Bake @ 400 for 6-8 minutes, until bread crumbs are golden brown. Finish with touch of white truffle oil & serve hot.
- Recipe courtesy of Brian Wisbauer, Executive Chef, Zebo's Wine Bar & Restaurant