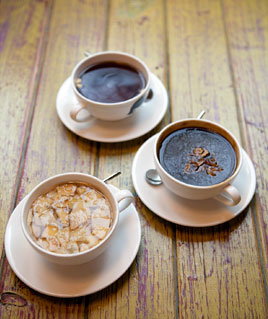 We couldn't have picked a better day to immerse ourselves in Korean tea shops than a day filled with brisk temperatures and a slight chilly rain. It made our check ins of tea houses much more cozy even though we were on a seriously ambitious mission to sip and sit in a combination of traditional and modern establishments.
We started at Miss Lee, a colorful and playful tea house washed in bright colors and natural woods. If I was looking for a quiet austere place for tea this sure wasn't it! We arrived for an early lunch of bento boxes with a variety of teas. There's something to know about the world of Korean tea: it's not necessarily always based on traditional tea plants and their leaves. It's a world that encompasses fruits, seeds, twigs, roots and leaves, not to mention some grains and barley and rice.
The flavors of a rainbow are all here, from sour and astringent to candy-like and sweet. One of my favorites was Omijacha, made from the dried berries of the Schisandra chinensis and called the Five Flavors tea because it has sweet, salty, bitter, sour and pungent notes. Served either hot or cold, Korean teas are consumed for health and vitality but to me some are just plain fun: give me a cup of Yujacha (citron) any day for dessert and I'd be a happy man.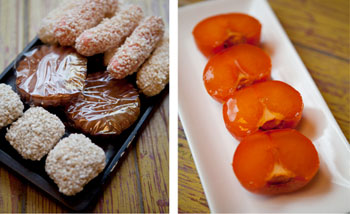 I'm a quick learner and noticed you can't really head out for any kind of social activity without food being involved. It reminds me so much of my childhood and my culture that this whole Korean thing makes total sense to me. With an endless "BRING IT!" attititude we ordered lunch as well as some snacks to enjoy with our tea. My favorite?
A Korean-style bento box with rice, seafood, egg and sausage. It was fantastic but it was the yakgwa that rocked my lil world. A soft, semi-chewy cookie made from wheat flour and sesame oil, it's formed into assorted shapes (often a flower) then fried before being dunked in honey. The result is chewy sticky cookie that is perfect with tea. They've since moved to the top of my cookie list for sure. A fried cookie? Come on now, really!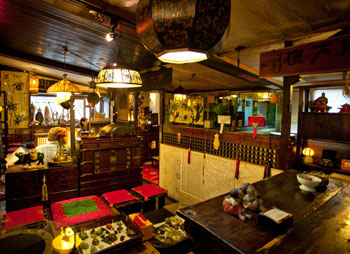 After Miss Lee we visited a few other tea houses, each markedly different. Over various glasses of iced omijacha and warm herbal tea we absorbed the environment as many others did – relaxing and catching up, laughing, exchanging stories. It was heavenly, I'm telling you!
We ended up at Old Tea Shop in Insa-Dong, a location that couldn't be more quintessential tea shop if you tried. Walking up creaking old stairs to a dark cozy room, we took a seat at a table that nestled you in a way that made you feel as if you're never leaving or you'll want a nap, whichever comes first. Over cups of citron and cinnamon tea, we had a few more snacks as we listened to the shop's birds sing in the window.
Our afternoon tea excursion had to be one of the sweetest, most relaxing afternoons I've spent in recent memory. It made me realize how wonderful it is to slow down, visit with friends, eat more snacks, laugh, smile, and really enjoy ones surroundings. And it helped me to brush up on Korean phrases. Practice makes perfect!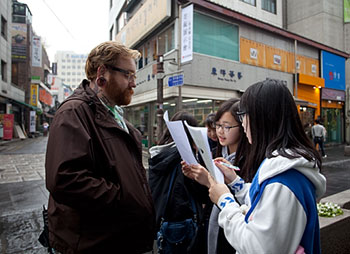 Speaking of practicing languages, later in the day we were approached by students working on an assignment. The task? Find a Westerner, interview them and complete a form in English. Being a short and brown man you'd be surprised how easy I can blend and adapt in surroundings. Try that when you're a tall redhead with tattoos and you can see how you might stick out. Score one for the students!
I will also share this in case you are in need of a good reason to get your heart to melt: take elementary school students, put them on a field trip, stick Adam in the vicinity and see what happens. They flock to him, practicing English words and phrases like "Hello!" and "How are you?" along with tons of waves from across the street. The Big Red Head stops to practice phrases with them, smiling the entire time. Talk about Cuteness Overload.
Matt Armendariz is a writer and photographer who lives in Los Angeles and chronicles his passion for food and travel on his blog MattBites. His latest book is "On a Stick!"