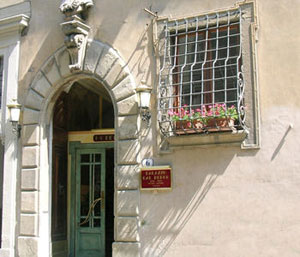 Recently I was fortunate to journey to Florence, a Renaissance jewel. I caught an Alitalia flight from Birmingham airport that is most convenient for short journeys between the UK and European continent. Flying via Milan, I found the seating aboard this Italian airline very comfortable and enjoyed being bussed to and from the plane. The seats are of grey leather and, although an airbus, quite roomy and spotless unlike so many other airlines I have flown on.
The Hotel Aprile was my place of abode for four deliciously comfy nights. This ancient Palazzo dal Borgo, formerly a 15th century Medici Palace, has been lovingly converted into a charming hotel with every comfort and excellent service.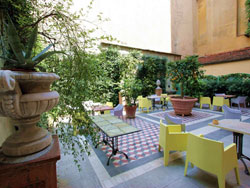 Their delightful courtyard garden where breakfast and afternoon drinks are served in the spring and summer is a green and verdant spot situated within sight of the Church of Santa Maria Novella and the bustling streets of this Renaissance city. The bedrooms are furnished differently and all with private bathrooms which have been beautifully fitted. For families, there is a full size suite with two bedrooms. You will find many surprises as you wander through the hallways and passages, 16th century paintings, alcoves with Florentine Renaissance antiques, original frescoes on walls and faded oriental carpets.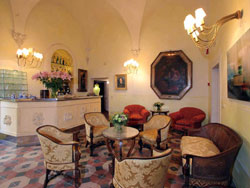 Sandra Costantini, a delightful lady, looks after guests' needs at the front desk and is well informed on where to go and what to see in Florence. In fact all the staff are worthy of praise. There is a lovely little bar and lounge where espresso can be sipped and local wines imbibed. Of course, telephones, mini bars, and modern conveniences like internet hookups are available.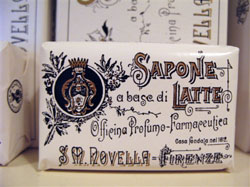 Hotel Aprile is situated on Via della Scala, very close to the station and many great trattorias and shops. Be sure to visit the St. Maria Novella Farmacia just down the street a bit, a place of wonder and incredible beauty and body care lotions and creams.
Also I recommend a visit to the Mercato Centrale which is just a 10-minute walk away. Here fresh cheeses, vegetables, fruits, pastas, meats, fish and grains are brought in from the surrounding countryside every day and a more enticing array will be hard to find anywhere. And do stop by to enjoy an espresso or caffe latte at Bar Bellini inside the market that since 1898 has been run by the Bellini family. Anna and Piero carry on the fine tradition.