In celebration of National Tartan Day (yep, there is such a thing), we are sharing an amazing recipe by Scottish Chef Jeff Bland to help capture the spirit and character of Scottish Americans and recognize their many contributions to our culture and our way of life. Personally we with we were in Scotland eating this at his Michelin-starred restaurant, but this should be the next best thing.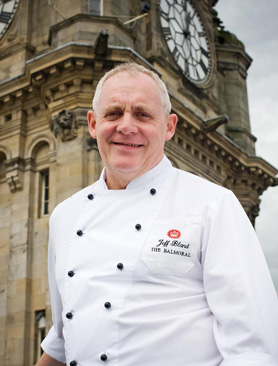 Loin of Perthshire Venison with Wild Mushrooms, Creamed Potatoes and Chestnuts.
Courtesy of Chef Jeff Bland at The Balmoral in Edinburgh
(8 portions)
Ingredients:
1kg Boneless trimmed loin of Venison
300g Fresh wild mushrooms
650g Maris Piper Potatoes
75g Chestnuts (peeled and cooked)
12 baby leaks
1 carrot (cut into 16 ribbons)
2 cloves of crushed garlic
50g Shallots
1 glass red wine
Oil (for cooking)
Butter (for cooking)
Method:
1. Peel and chop the potatoes evenly and boil in a pan in salted water for 15 minutes.
2. Chop the chestnuts into small pieces.
3. Mash the potatoes and add butter to give them a creamy consistency. Add the chopped chestnuts and stir. Keep mixture in the pan and keep warm.
4. Seal the venison in a hot pan and cook on the stove or in the oven for 8 minutes.
5. Remove the venison from the pan and allow it to rest.
6. Add the red wine to the pan and mix with the juices from the venison and simmer gently.
7. Sauté the garlic and shallots in another pan and once soft, add the mushrooms. Season with salt and pepper and add any excess liquid to the venison pan.
8. Cut leek in half and stir fry with butter and a little water and add the carrot ribbons until soft.
9. Slice the venison and arrange it on the dish with the creamed potato, wild mushroom mix, leek and carrot ribbon. Top with a swirl of juice from the venison pan.