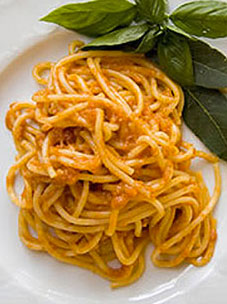 Last year at this time I wrote about eating pasta twice a day every day we were in Umbria. It seemed impossible to think about a lunch or dinner without beginning it with a bowl of spaghetti, ravioli, gnocchi or strangozzi.
Well, we're here again, thank god, but I've cut my caloric intake in half. Well, I don't know if that's exactly true — but the intent is there.
My lunch — every day — is made expressly for me by Jill, my newly-inspired kitchen magician on her Italian-version Nutribullet. Yes, every day she brings me a large glass filled with the extractions of various raw vegetables, fruits and nuts. She's gotten very creative, adding fresh ginger one time, red pepper another, mint a third. It's a health-conscious festival!
And for dinner, I'm Hoovering in the pasta just like in the old days. The first night we went, as we always do on the first night, to the Palazzaccio, where I had their spaghetti alla benedettina, which is in a wonderfully subtle tomato and fresh bay laurel sauce.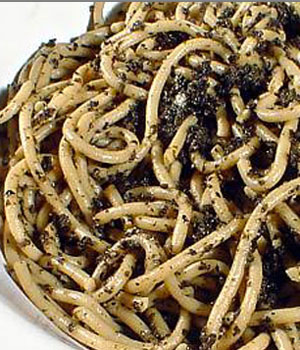 The second day I celebrated buying a guanciale, as I always do on the second day, from Ugo, my butcher.
I sliced off three thick slices, cut them into bullet-shapes and made bucatini alla Gricia — bacon, onion, hot pepper and aged pecorino from the sheep up on the mountain above our house.
Third night was the local specialty, strangozzi al tartufo — local egg-white pasta in a sauce of black truffles. The secret ingredient in this sauce is one anchovy, mashed and melted in the hot oil and virtually undetectable. It makes the dish.
Fourth night? Hmm, let me see — spaghetti all' amatriciana — just because I couldn't keep my hands off Ugo's guanciale.
Fifth night we had friends over and I made a Sicilian recipe — pasta with shrimp and fried eggplant in a garlicky tomato sauce that went over nicely and last night — in deference to my vegan mate, we put together a dish from the Greens Cookbook called spaghetti with red onions and toasted walnuts, which may have been the best of the week.
Viva Italia! Viva la pasta!
Michael Tucker is an actor and author whose recent novel is "After Annie
." He writes about his love of food on his blog Notes from a Culinary Wasteland.