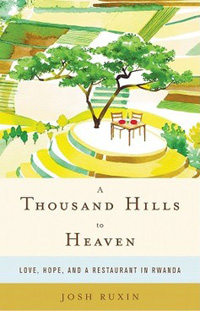 Josh Ruxin did not write a book about food, although his story takes place against a backdrop of heart-wrenching hunger and Eden-esque abundance, tracing a journey from famine to feast.
He did not write a book about restaurants, although he tells how two American ex-pats created one of the hippest dining establishments in Africa.
He did not set out to write about good and evil, but his book describes one of the most horrific genocides in human history, and the astonishing efforts of both the victims and their persecutors to find forgiveness and redemption.
He didn't even write a love story, although A Thousand Hills to Heaven
centers on two people who are very much in love—young Americans you might meet at a party, endowed with the same hearts, brains, and DNA as you or I—but who found the strength to work a thousand miracles in a land God forgot.
And he certainly didn't write a cookbook, but he concludes his story with six recipes that will make you want to head for your kitchen and light your grill to try them.
What he did write is one of the most extraordinary narratives of hope I have read in decades—a book that, just for reading it, makes you aspire to be a better person.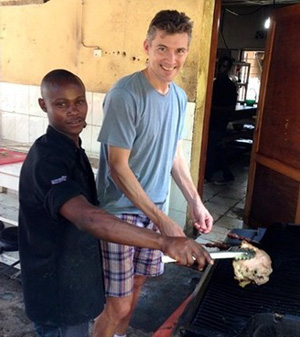 The plot line of A Thousand Hills to Heaven is simple. High school boy follows pretty girl to a global issues meeting about famine in Africa. High school boy travels on a hunger relief mission to Ethiopia, where he decides to devote his life to ending poverty. Boy gets a BA from Yale, Masters degree from Columbia, PhD as a Marshall Scholar in London, winning a Fulbright for a year in Bolivia for good measure. The newly minted PhD rubs elbows with presidents and kings, with tech billionaires and rock stars. The young man meets another girl, woos and marries her, and takes her by way of a honeymoon to one of the poorest countries in Africa—a land so shamed by its recent past, its very name is synonymous with genocide.
Yet the couple fall in love with Rwanda, and the tragedy-scarred people of this tiny landlocked African nation fall in love with them. Within a decade, the young man engineers one of the most remarkable revolutions in health care and sustainable agriculture in foreign aid history. His wife does orphanage work, then opens a celebrated restaurant, all while finding the time to have and raise three children.
This is the story of how two enterprising Americans made an extraordinary difference for a country of 11 million people. And while it's unfashionable in our partisan age to use words like "inspiring" or "life-changing," that's exactly what A Thousand Hills to Heaven is.
Heaven's Cassava Chimichurri Filet Mignons - Adapted from A Thousand Hills to Heaven
These mega-garlicky grilled filet mignons have been on the menu at Heaven Restaurant in Kigali since the restaurant opened. To be strictly authentic, you'll need to know about one exotic ingredient—cassava leaves—which taste a little like cooked spinach. If you live near an African grocery store, you may be able to find canned cassava leaves—otherwise, use cooked spinach.
Yield: 4 to 6 servings
2 pounds beef tenderloin steaks (filet mignons), each about 1-1/4 inches thick
For the marinade:
1/2 cup soy sauce
1/3 red wine
1/4 cup honey
1/4 cup balsamic vinegar
2 tablespoons minced fresh ginger
2 tablespoons minced garlic
2 tablespoons freshly ground black pepper
For the cassava chimichurri sauce:
1/2 cup cooked cassava leaf or spinach puree
2 bunches fresh cilantro, washed, shaken dry, stemmed and rough chopped
1 bunch flat-leaf parsley, washed, shaken dry, stemmed and rough chopped
1 small red onion, peeled and quartered
12 cloves garlic, peeled and rough chopped
1 tablespoon dried oregano
2 teaspoons hot pepper flakes
Juice of 1 lime
1 teaspoon each salt and black pepper
1/2 cup extra-virgin olive oil, or as needed
Step 1: Place the beef in a nonreactive baking dish.
Step 2: Make the marinade: Combine the soy sauce, red wine, honey, vinegar, ginger, garlic, and pepper in a mixing bowl and whisk to mix. Pour this mixture over the beef and marinate for as little as 4 hours or as long as overnight, turning the steaks a couple times so they marinate evenly.
Step 3: Meanwhile, make the sauce: Place the cassava leaf puree, if using, onion, garlic, cilantro, parsley, oregano, hot pepper flakes, lime juice, salt and olive oil in a food processor. Puree until smooth, adding enough olive oil to obtain a thick but pourable sauce. Correct the seasoning, adding salt and pepper to taste.
Step 4: Set up your grill for direct grilling. Brush and oil the grill grate. Drain the filet mignons well, discarding the marinade, and arrange on the grill grate. Grill until cooked to taste, 3 to 4 minutes per side for medium-rare, giving each filet a quarter turn half way through to lay on a crosshatch of grill marks.
Step 5: Transfer the fillets to a platter or plates. Spoon chimichurri sauce over each and dig in.
Tips: Cassava leaves, which are toxic unless cooked, are difficult to find in the U.S. But dried ground cassava leaves can be purchased in 9-ounce packages from the Global Food Market. As noted above, you can substitute spinach.
Steven Raichlen is the author of the Barbecue! Bible cookbook series and the host of Primal Grill on PBS. His web site is www.barbecuebible.com.
Follow Steven Raichlen on Twitter: www.twitter.com/sraichlen