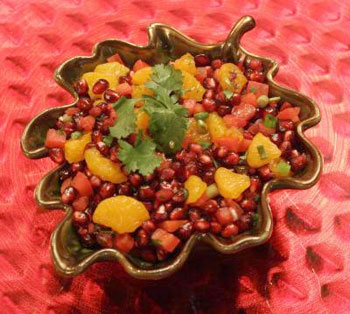 We cannot let November pass without a pomegranate!
I love to cook and I love cookbooks, for they seem to hold sorcerer's spells between their pages. I don't use them when I cook, however. I may glance over the ingredients list or temperature/time chart, but the book closes when I begin preparation. Nothing I do gets done exactly the same way twice as I cook by feel and what is in my kitchen at the time. I say this only to encourage you to treat the following recipes casually – more as an inspiration than as a contractual obligation.
How to peel a pomegranate: Beats me! I make a mess every time I try, though at least this time I remembered pomegranate juice stains anything it hits. (Reading instructions for peeling and seeding pomegranates is as foggy as trying to figure out a new digital camera...) One good piece of advice, however, is to detach the seeds from their membranes in a bowl of water. The membrane floats to the top, which makes it all very easy to separate the little bits.

(With subtle shifts in ingredients both pomegranate recipes are delicious with chevre - either as a desert or as a salad)
Moroccan Grilled Lambchops with Pomegranate Relish

Wet rub:
Make a paste with the following ingredients to taste:

Corky's dry BBQ rub (or any other brand handy)
Ground Cinnamon
Cumin
Ginger
Parsley garlic salt (optional)
Paprika or a very light dusting of cayenne pepper
Liquid hickory smoke (unless you are cooking over charcoal)
Honey
Mint jelly

Combine the above ingredients
Nuke in a microwave for about 20-30 seconds to melt the jelly.
Stir into a murky smokey sweet paste.
Cover the lamb chops –don't forget the bone and side fat.
Let stand …
Broil close to high heat in a pre-heated oven…
Chops should be a little charred on the outside but still juicy and pink on the inside.

Serve with fresh pomegranate relish and rice pilaf

Pomegranate Relish

Chopped fresh mint
Chopped fresh parsley
The juice from one lime
Mint jelly, left in chunks
White raisins soaked in calvados (or spirits of your choice)
Chopped peeled apple or mandarin oranges
Finely minced red onion (not too much)
The seeds from one or two pomegranates (depending of quantity)

Puree a portion of your apples or mandarin oranges with the limejuice to create a binder and mix ingredients




Crepas de Pollo con Salsa Pomegranate

French Colonial in flavor, this dish is delicate and mild.

Crepas: Follow your favorite crepe or pancake recipe bearing in mind that if you use a pancake mix, you will need to thin mixture with more milk. Crepas should be the size of a tortilla. Crepas can be made in advance.

Béchamel sauce: Again, follow any Basic Béchamel Sauce / White Sauce recipe but perhaps add a pinch of cayenne and salt to taste.

Filling for crepas
2 cups coarsely chopped cooked chicken
I small coarsely chopped onion which has been lightly sautéed in butter (or corn oil)
2 tablespoons chopped white raisins (optional)
2 tablespoons blanched chopped almonds
a small amount of your white sauce to mix with the ingredients


Combine the above ingredients and fill crepas as if you were preparing enchiladas and place seam side down in a buttered shallow baking dish. Pour white sauce over all.
Sprinkle with any mild cheese of your choice which has been grated, and bake at 325 degrees for about fifteen or twenty minutes…until a hint of a light golden brown. (A gratin)

Serve with sour cream and pomegranate salsa

Pomegranate Salsa

Putting together a salsa is both a visual and taste driven personal choice…


Seeds from one or two pomegranates (depending on quantity)
Blood oranges, if you can find them, otherwise
One or two cans mandarin oranges gently chopped
Red onion finely chopped
White raisins soaked in tequila
1 fresh jalapeno minced (or less according to taste)
Minced cilantro
Juice of one lime
A pinch of cumin
Coyote Cocina ancho hot sauce (or your own favorite hot sauce)

Take a little of the chopped orange, either the juice from the mandarin orange tin or a spoonful of jalapeno jelly, the cumin, lime juice and your favorite hot sauce to taste and puree to create a binder.
Lightly toss together with remaining ingredients.
Nancy Ellison, award winning photojournalist and celebrity portraitist, has authored fourteen books of photographs, including "Romeo and Juliet: The Love Story in Dance" and "Starlet". Her latest book, "Wagner's Eternal Ring" was published in September 2010 by Rizzoli.