Fall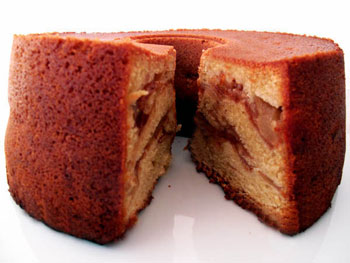 As apple picking season approaches, I'm reminded of this all time family favorite cake. My sister has been making a version of this cake for as long as I can remember. It's often referred to as "Jewish Apple Cake" (probably due to the fact that the recipe is completely dairy-free – it uses orange juice instead of milk and oil instead of butter) and there are hundreds of recipes on the internet for it. It makes an excellent coffee cake and freezes well too.
Fall Harvest Cinnamon Apple Cake
4 apples – peeled, cored and thinly sliced
2 teaspoons ground cinnamon
1/4 cup sugar
3 cups all-purpose flour
1/2 teaspoon salt
1 tablespoon baking powder
1/2 teaspoon soda
1/2 teaspoon cinnamon
1¾ cups sugar
1 cup vegetable oil
4 eggs
1/2 cup orange juice (freshly squeezed is best)
2 teaspoons vanilla extract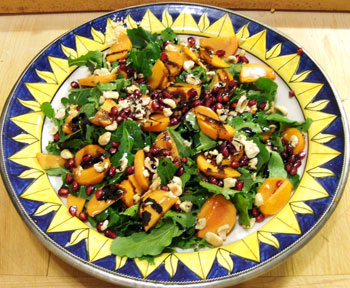 Sometimes lettuce is just not good enough. With its peppery spiciness, arugula has a refreshing bite. In Southern California, even though it gets cold in the Winter, arugula thrives in the year-round sunshine, so we're able to buy fat bunches any time of the year for $1.00/bunch.

Persimmons and pomegranates are more seasonal. When they're all available, our favorite salad is a simple combination of all three. <Suzanne Goin created a complex salad with all these ingredients. I used her recipe as a starting point, choosing to simplify the ingredients and directions.

The combination of tastes is near perfect: peppery arugula, sweet persimmon, tart pomegranate seeds, and crunchy hazelnuts, all held together by the emulsion of olive oil and reduced balsamic vinegar.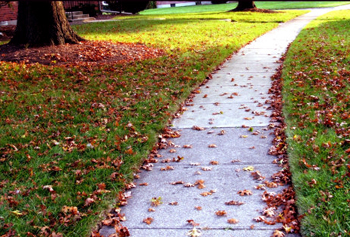 Years ago, when "Color Me Beautiful" was all the rage, I "had my colors done." I turned out to be an "Autumn," which didn't surprise me in the least - in every possible way, from my reddish hair to the deepest reaches of my soul, I am a fall girl. This morning as I walked the dogs I felt that first snap of cold in the air, and saw leaves on the sidewalk, rendered terrestrial by two days of heavy rains. They were an indescribable scarlet, surrendering their lives in a blaze of color that jumped up from the dull, gray concrete and made me smile. It's coming.
I know that there are people who adore summer, and who bitterly mourn the end of heat, light, blooming flowers and lazy days by the pool. I try to understand that, but my own yearning is for the end of that indolence and warmth. As the air grows cooler, the days shorten, and the leaves turn from endless green to an assortment of reds and golds, I feel a surge of energy and possibility. School starts, sweaters come out of storage, and there is a pencil-scented air of fresh starts. I will no longer feel vaguely sticky and frizzy all the time, and I can put away the light, bright clothes that seemed so fresh at the end of May, and now seem limp and exhausted. It is time for cashmere and long sleeves, flannel and layers in the richest browns, deepest greens and bravest shots of orange.