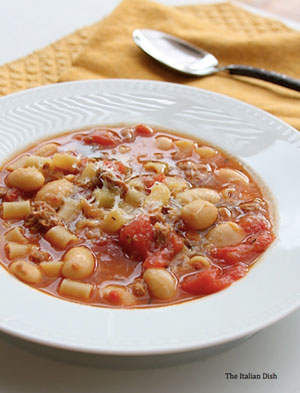 This soup, along with a green salad and some nice bread, is a great dinner for a chilly night. This soup is loaded with sausage, beans and ditalini pasta. It's really a pretty traditional "Pasta e Fagioli" soup, but with sausage. I've made the soup with turkey sausage, but you can use any sausage you like.
I've used dried beans to make the soup. You can certainly use canned, but if you've never cooked with dried beans, you should try it. Some people are confused about dried beans and don't know how to soak them and cook them. But there really is no mystery to it at all - it's very easy. Soaking simply softens the beans so that they have a shorter cooking time. That's all. And you don't really even have to soak them. If you forget to soak them, simply cook them longer. I just throw the beans in a pot and cover them with water and let them soak all day. I drain them, add fresh water and then cook them until they are tender. That's it.
I get my beans from Steve Sando at Rancho Gordo. He produces the best dried beans on the market today. If you are interested in cooking more with beans, check out the great cookbook he wrote last year, Heirloom Beans, filled with terrific recipes using beans and lots of tips on how to cook with beans.
Sausage and Bean Soup with Pasta
Serves 6 or more
Ingredients:
1 cup dried cannellini or cellini beans or 1 15-ounce can of any beans you like, drained
1 pound ground sausage, turkey or pork
1/2 medium onion, diced
1/2 medium carrot, diced
3 tablespoons olive oil
2 garlic cloves, minced
1 15-ounce can diced tomatoes
6 to 8 cups chicken broth
1 teaspoon dried thyme
1 bay leaf
Salt and pepper
1 cup ditalini pasta, or any small pasta
Grated Parmigiano Reggiano cheese
Instructions:
If using dried beans, place them in a pot, cover with cold water and let soak for several hours or overnight. Drain.
In a large pot, brown the sausage. Remove from pot. If there is a lot of fat left in the pot, pour this out but do not wipe out pot. Add onion, carrot and olive oil and saute for 2-3 minutes until soft. Add garlic and saute about a minute more. Add the tomatoes, 6 cups of the chicken broth, thyme, bay leaf, some salt and pepper, the drained beans and the sausage and cover the pot. Cook for an hour over low heat, at a gentle simmer.
If using dried beans, check for doneness at this point. (If using canned beans, add the pasta now.) If the beans are not soft enough, cover the pot again and cook for another 30 minutes or until the beans are soft. Add the pasta and cook, uncovered, until the pasta is tender. Check the seasoning and add more salt and pepper to taste. If the soup is too thick for your liking, you can add more chicken broth.
Serve with grated cheese on top and an extra drizzle of olive oil.
Variation: You can add a couple of handfuls of fresh chopped greens like spinach, chard, etc. For the last 15 or 20 minutes of cooking time if you like.
Elaine McCardel shares her love fresh, homemade Italian cooking and food photography on her blog The Italian Dish.