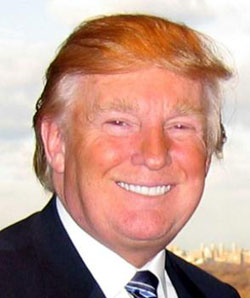 Perhaps there should be a college course on Donald Trump – after all they have been lecturing on Barbie for decades! He is the last of the great Think Big, Act on Inspiration, and Let the World Know Just How Great You Are kinda guys. Like two gods in one room, the world may not be ready for too many Donald Trumps, but it is our luck that we have at least one!
Even luckier that he delights/infuriates us in Palm Beach! Only so much time can pass in Palm Beach before Donald's name comes up, or you are sitting at a table in his grand ballroom for The International Red Cross Ball, or his private Bocelli concert. Of course I am referring to "The Donald" who because of Donald Duck's fading career absolutely owns the name!
Truly, not since Donald Fauntleroy Duck has there been a Donald so internationally famous – and so rich – as Donald John Trump. Comparisons are in order:
MR. DUCK
MR. TRUMP
BIRTHDATE
June 9, 1934
June 14, 1946
DISTINGUISHED CHARACTERISTIC
Large yellow-orange bill
Large yellow-orange mop
NOTED PERFORMANCE
The Sorcerer's Apprentice
The Apprentice
NOTED FOR
Explosive, fiery temper
"You're fired"
ESTIMATED NET WORTH
$800,000,000
$1,600,000,000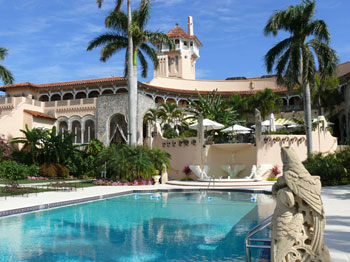 He also owns Mar-a-Lago, Marjorie Merriweather Post's 126 room 110,000 sq. foot lake to ocean estate which since his purchase has been carefully restored to its previous grandeur and has become Donald's exclusive private club. (If you sneak up stairs you might even get a glimpse of Mrs Post's daughter, Dina Merrill's childhood bedroom with its enchanted fairy tale murals…)
It was reported in Palm Beach's Shiny Sheet that the first check Donald Trump wrote when he bought the extraordinary Mar-a-Lago, was to kill a contract with a demolition company that was planning to raze the opulent estate.
While the world thinks his joy in life comes from yelling, "You're fired!" club members know better – His real joy in life is acting the Host. "Try the chopped steak. It's the best! ...You know what's great – the pretzel bread… This individually wrapped butter is so good. I don't like those little flower butters. There is always a finger print on them!" The real secret is that Donald Trump wants his guests to feel good, important and to be happy … as happy as he felt when his mother, Scottish born Mary MacLeod Trump fixed Meat Loaf for him as a child. "I loved my mother and I loved her cooking … and, she was a real beauty!"
On the menu – along with the Raw Oysters, Champagne and Caviar – at Trump's exclusive Mar–a-Lago Club, Mary MacLeod Trump's Meat Loaf rules, and it is truly a man's meal; it has all the warmth of a cozy aromatic kitchen and the familiar comfortable masculinity of a favorite armchair – but tastier. And, it makes Donald Trump smile!
Mr. Trump's Mother's Meatloaf:
2 lbs fresh ground beef
1 Spanish onion (fine dice)
1 Red bell pepper (fine dice)
1 Green bell pepper (fine dice)
2 cloves garlic (minced)
1 large beefsteak tomato diced fine (remove seeds)
2 extra large fresh eggs
2/3 cup of seasoned breadcrumbs
¼ cup chopped parsley
2/3 cup of tomato puree
1/2 tablespoon of salt and pepper
1). In a large sauce pan slowly cook peppers, onion, garlic and tomato until the onions turn translucent and let cool.
2). In a large mixing bowl add ground beef, cooked cool vegetables, eggs, breadcrumbs, parsley, salt and pepper and mix well.
3). Remove the mixture from bowl and place in a 14"x 9" x 2" ceramic baking dish and form into a loaf.
4). Top loaf with tomato puree and bake in a 350 degree oven for 45-55 minutes or until brown and firm.
5). Let the loaf rest for 10 minutes before slicing. Serve with mushroom gravy and mashed potatoes.
Nancy Ellison, award winning photojournalist and celebrity portraitist, has authored fourteen books of photographs, including "Romeo and Juliet: The Love Story in Dance" and "Starlet". Her newest book, "Wagner's Eternal Ring" will be published this September byRizzoli.