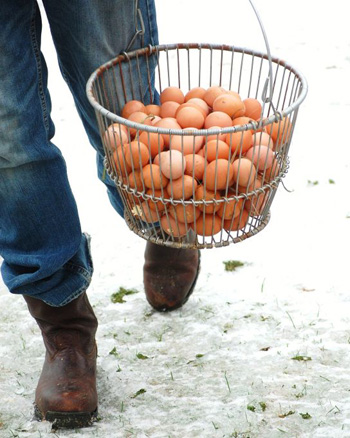 Four years ago, Roy and I (newly besotted), rented a little plot of land on a Vineyard farm. We grew vegetables and sold them at the farm's roadside stand. Living in a tiny apartment over a general store, we shuttled back and forth to tend our plot.
That fall, our friend Joannie tracked us down one day, took us by the hand, and led us to a little farm house on two acres of land. Right on the spot, she introduced us to the owners and insisted that they rent the farm house to us. I'm not sure if the owners knew what hit them, but in about an hour, we had all shaken hands and Roy and I were packing up the apartment. Our new landlords said, "Sure, grow whatever you want here."
We moved into the little (uninsulated) 1895 farm house a few weeks later, and by spring we were turning over the soil and putting up the fences for our first vegetable plot. Roy built a little farm stand, and we stuck a sign out by the road. One summer, then two summers went by.
We got 8 laying hens, and then 50 more. The garden doubled in size, and we built a hoop house. We made a tiny bit of money off our tiny farmette, keeping the farm stand open almost every day while writing books and building houses (our real jobs), too.