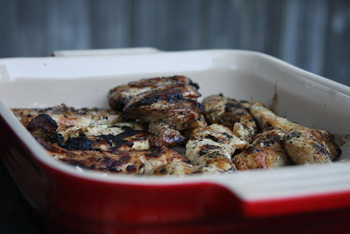 One of this Farmer's favorite meals is a basic meat, veggie, and salad trio dolled up and flavored for the season. With summer in full swing, fresh herbs are abounding in the garden and flavoring my favorite basic meal with seasonal flair.
Basil...what a delicious flavor, smell, and plant in general. There are as many types of basil as you could ever imagine. 'African Blue' is one of my favorites for its small leaves, intense flavor, beautiful flower, and fabulous fragrance. With basil bolting, blooming, and bursting in the garden now, I'm using it now as my herb de jour.
Pairing well with lemon, garlic, and chives, I concocted a vinaigrette of the aforementioned herbs and fruit for a salad. This dressing fares well as a fresh condiment for the grilled chicken. I like to weave my flavors throughout my meal thus carrying a theme from course to course. With herbed vinaigrette on tap, an herb infused marinade for the chicken was in store.