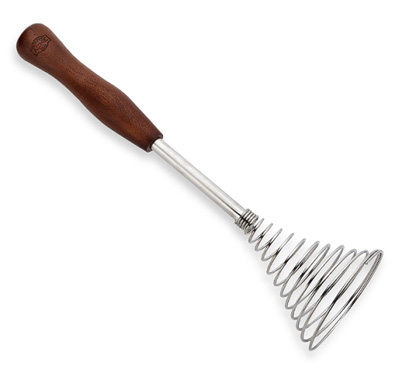 In my opinion a great gift for the little one is a wire push type egg beater.  No, it's not too early to get that little one comfortable with kitchen chores.  I say chores because if you strip away all the baggage of cooking "celebrity" and gourmandise what's left is the truth that knowing your way around the daily work of the kitchen is a big part of a satisfying personal life.  
Learning how to cook at a young age is like learning how to drive. The younger you are when you begin the learning process the more ingrained and effortless the moves will be as you mature.  I use myself as an example.  I don't even remember being taught by my mother.  A woman, by the way, who wasn't by any measure a great cook.  However, she did get dinner on the table every single night of my childhood with very few exceptions.  So I learned the moves incrementally, effortlessly and naturally.
It started with pot banging.  Raised in a household where a "toy" was anything that would entertain me, I was encouraged to open the doors to the lower cupboard that held the pots, drag them out and bang on them with a wooden spoon made available to me for this purpose.  I don't imagine mom understood that she was making a cook.  She was just trying to give me something to do where she could watch me while she made dinner.