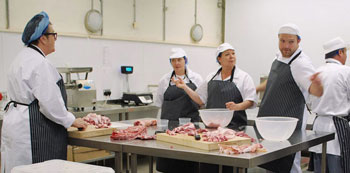 Dreaming of a cooking school offering hand made craft based courses? Yearning for more flavor and personality in your meal? Believe that artisan food skills are important?
Then The School of Artisan Food, a tipping point for the newest trend in food preparation in the heart of rural England, is the pace and place for you!
AND you're in luck. Summer 2013 offers a new six-day intensive (Aug 12-17). Students will join a team of British food stars for six days of bread making, cheese making and charcuterie. And enjoy tasting local beers and farmhouse cheeses; the very model of major English food traditions made new again.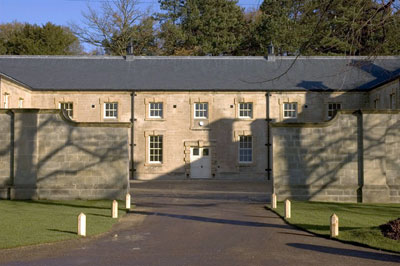 Located on the gorgeous Welbeck Estate in romantic Sherwood Forest in Nottinghamshire, the school is housed in the Estate's former Victorian fire station around a cobbled courtyard, converted into state-of-the-art training rooms in 2009.
Co-Founder/Director Alison Swan Parente, talented educator, foodie, force of nature (and dear friend) is a great believer in the 'special relationship' between the US and UK.
She's made trips to California and New York to "learn from all these influences as well, but we specialize in British breads, farmhouse cheeses and smoked and cured meats…from the gooseberries in the vegetable plot to the cheese made on the Estate, SAF is a very British experience."
Under Swan Parente's leadership, SAF has gained an international reputation and rave reviews including: Financial Times, CoolHunting.com and Travel & Leisure.
After a Royal visit, when Prince Charles and Camilla were taught how to cook a pig's brain, inspected ovens, and the dairy room, HRH could not have been more impressed, " I was thrilled to learn about Alison Parente's imaginative and long overdue initiative, " said the Prince, "Food is very much part of the art of life, the art of living and what is going on here at the school is of enormous importance."
Classes are both serious and jolly good fun, open to anyone willing to learn. In fact, says Swan Parente, "course participants have ranged from a three-year-old studying chocolate to an industrious octogenarian pupil."
PS: Longing for a September sojourn in the English countryside? Take classes at SAF, book a tour to see artworks from The Portland Collection in the historic setting of Welbeck Abbey's grand Edwardian entertaining rooms and do not miss The Farm Shop…starring Estate made Stichelton Cheese! A singular sensation & my favorite cheese on the planet. Book now! www.schoolofartisanfood.org
Holly's respected career in editing and writing includes tenures as Editor-in-Chief, Santa Barbara Magazine and Editor-in-Chief, Distinction Magazine at Los Angeles Times. Currently a contributor at Huffington Post and Co-Founder of new e-commerce site MIXXCENTURY.com - exclusively devoted to home decor in the combined antique/vintage marketplace - launching July 2013.