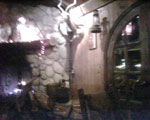 You ordered Grilled Ostrich last night? Venison medallions in cherry sauce? Roast duck breast that tasted like the best gelato you ever had? Killer game splattered everywhere - into all soups and on top of all salads?
Well you were probably sitting as my dinner guest at a rustic table next to a wooden carved motorcycle sculpture that is parked in doors in front of a fireplace that sits beneath deer antlers festooned with xmas lights at the Deer Lodge in Ojai, California.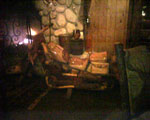 I apologize if I wasn't more talkative but I was too busy removing some vegetables that had made their way onto my plate in order to make more room for more game. Criminy that was good! Would it have been too much to ask for them to make me - let's say a quail cake?
Deer Lodge
2261 Maricopa Highway
Ojai, CA 93023
805.646.4256
http://www.ojaideerlodge.net