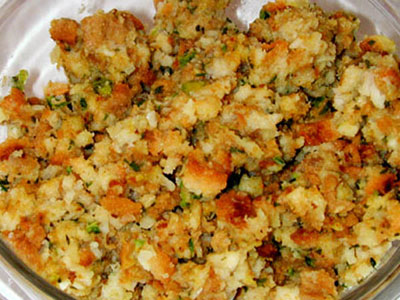 This recipe is a combination of technique and ingredients from Cook's Illustrated and Joy of Cooking, which I suppose now makes it my own. There are tons of recipes with exotic flavors and ingredients, but if you're looking for that classic Thanksgiving stuffing, this is the recipe to use. Drying the bread before making the stuffing is an important step for texture and flavor.
If you plan ahead, you can just leave the bread cubes out on the counter for a few days to become stale. I usually just spread them out on baking sheets and dry in a 300-degree oven for 30 to 60 minutes. Let the bread cool before using in the stuffing. You can substitute three 14-ounce bags of plain dried bread cubes for the homemade dried bread cubes, but you'll need to increase the amount of broth to 7-8 cups.
This recipe can easily be halved and baked in a 13 by 9-inch baking dish for a smaller crowd.
To Make Ahead:
The stuffing can be assembled in the baking dish, then wrapped tightly in plastic wrap and refrigerated for up to 24 hours before baking. To bake, let the stuffing stand at room temperature for 30 minutes. Remove the plastic wrap and proceed to bake as directed in step 3.
1 ½ sticks unsalted butter (plus extra for baking dish)
4 medium ribs celery, chopped fine
2 large onions, minced
4 scallions, chopped fine
3 tablespoons minced fresh sage leaves or 2 teaspoons dried
3 tablespoons minced fresh thyme leaves or 2 teaspoons dried
1 tablespoon minced fresh marjoram leaves or 1 teaspoon dried
1 teaspoon dried tarragon or basil
1/4 teaspoon nutmeg
2 tablespoons cognac
2 pounds high-quality sandwich bread (like Pepperidge Farm White), cut into 1/2-inch cubes and dried
5 cups turkey stock or low-sodium canned chicken broth
3 large eggs, beaten lightly
1/4 cup cream
1 loaf stale white bread (about 18 slices), crust on, cut into 1-inch cubes
1-2 teaspoon kosher salt
2 teaspoons freshly ground black pepper
3/4 cup fresh coarsely chopped flat-leaf parsley leaves (about 1 bunch)
1. Adjust oven rack to center position and heat oven to 400 degrees. Melt butter in a large skillet over medium-high heat. Add onions, scallions, and celery, and cook until onions are translucent, about 10-15 minutes. Add sage, thyme, marjoram, tarragon and nutmeg and stir to combine, and cook 3 to 4 minutes. Add cognac to deglaze pan, and then 1/2 cup stock, and stir well. Cook for about 5 minutes, until liquid has reduced. Transfer to a very large mixing bowl.
2. Add the dried bread cubes, remaining stock or broth, eggs, cream, chopped parsley, salt, and pepper to the sautéed vegetables and toss gently to distribute dry and wet ingredients evenly. Turn mixture into buttered 15-x 10-inch baking dish.
3. Cover with foil and bake for 25 minutes. Remove the foil and continue to bake until golden, about 30 minutes longer. Cool for 10 minutes before serving.
James Moore is a producer, publicist and freelance writer. When not traveling the world, he's home in Los Angeles, testing and photographing food to post on his blog Cook Like James