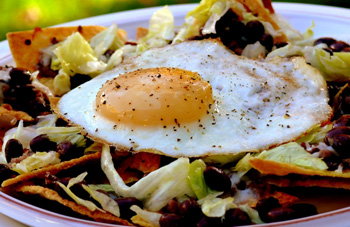 From Everyday
1/2 cup plus 3 Tablespoons store-bought tomatillo or verde salsa
1/4 cup extra-virgin olive oil, divided
Salt & pepper
One 15 ounce can black beans, rinsed
4 cup tortilla chips
4 ounces Monterey Jack cheese, shredded (about 1 cup)
3/4 head iceberg lettuce, shredded
4 eggs
Preheat the broiler. Line a baking sheet with parchment. In a medium bowl, whisk together 1/2 cup salsa and 2 Tablespoons olive oil; season with salt and pepper if needed.
In a medium bowl, mash half of the black beans with the remaining 3 Tablespoons salsa. Arrange the tortilla chips on the prepared pan and top with the mashed beans and the cheese. Broil until melted, about 3 minutes.
In a bowl, toss the lettuce and remaining black beans with the salsa. Divide the tortilla chips among 4 plates; top with the salad.
In a large nonstick skillet, fry the eggs in the remaining 2 Tablespoons of olive oil over medium-high heat. Place an egg on top of each salad.
- Recipe courtesy of Cathy Pollak