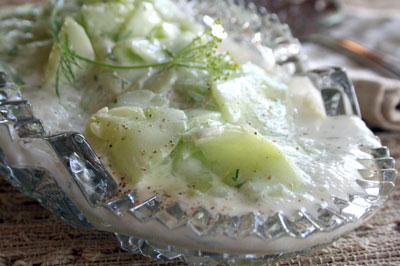 2 English cucumbers (often called burpless or seedless cucumbers)
1 teaspoon salt
1/2 cup full-fat sour cream
2 tablespoons sugar
2 tablespoons vinegar
1 tablespoon fresh dill weed, lightly chopped
1/4 teaspoon freshly ground black pepper
Paprika for sprinkling
Peel cucumbers. Slice paper thin and place in a bowl. Sprinkle with salt and mix. Cover and refrigerate for 3 to 4 hours.
In a small bowl, combine sour cream, sugar, vinegar, dill weed and black pepper. Cover and refrigerate.
Rinse and drain the cucumber slices. Pat dry with paper towels to remove excess liquid. Put cucumber slices in clean bowl and set aside.
Just before serving, add sour cream dressing to cucumber slices and toss. Sprinkle with paprika.
- Recipe courtesy of Sue Doeden