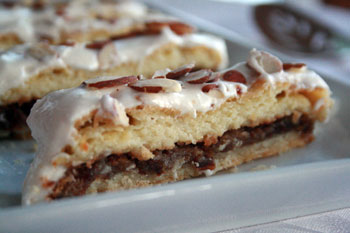 February is zipping right by. The days are getting longer, the sun is shining, the temps have been mild. I'm enjoying a mid-winter high. In just a couple of weeks, though, March will arrive with gray days, dirty snow, more snow, ice — all things that make the month of March in Minnesota my least favorite time of the year.
I've decided to celebrate the sunshine of today with a batch of Cherry Almond Puff. I began the process with an old recipe for Almond Puff that I got years ago from a friend of mine who lives in Bird Island, Minnesota. I haven't made it in years, but was reminded of it when I was having coffee with someone the other day who told me about this great dessert she had made for a neighborhood get-together. I recognized it as Almond Puff.
Since February is National Cherry Month, I made a filling with dried cherries and almond paste. Yes, I'm still finding ways to use almond paste.
Cherry Almond Paste has a crunchy crust that is slathered with cherry almond filling. An unusual topping made of butter, flour and water, similar to cream puff dough, is spread over the filling before baking.
The results were just what I had hoped for — an almond flavored melt-in-the-mouth sweet treat.
Sue claims this recipe makes 30 servings. I guess that depends on how you slice the Puffs. And on how many each person decides to eat as a serving. It's hard to eat just one.
Celebrate sunshine and longer days. Or, make Cherry Almond Puff today and stash some away in the freezer to take out one of those gray March days that are just ahead.
Cherry-Almond Puff
Base layer of dough:
1/2 cup (1 stick) butter
1 cup all-purpose flour
2 tablespoons cold water
Cherry-Almond Filling:
1/2 cup (heaping) dried cherries or 3 ounces
1 (8-ounce) can almond paste
1/4 cup (1/2 stick) butter
Puff layer:
1/2 cup (1 stick) butter
1 cup water
1 teaspoon almond extract
1 cup all-purpose flour
3 eggs
Frosting:
2 cups powdered sugar
4 tablespoons (1/2 stick) butter
4 tablespoons cream
1/4 teaspoon vanilla extract
1/4 teaspoon almond extract
1/2 cup sliced almonds
Preheat oven to 350°F. Line a baking sheet with parchment paper.
Place butter and flour in a mixing bowl. Mix with a fork. Add 2 tablespoons water and mix. Form dough into a ball. Cut half. Pat each piece of dough on the parchment-lined baking sheet, forming two 12-inch x 3-inch strips. Bake for 10 minutes. Allow to cool slightly.
Make filling by placing dried cherries in a small bowl, adding just enough water to cover the cherries. Place in the microwave and heat to boiling. Remove from microwave and let stand for 3 to 5 minutes. Drain cherries and set aside. Process almond paste and butter in food processor until blended and smooth. Add drained cherries and pulse. Cherries should remain in small pieces. Spread filling over baked and cooled strips.
Make puff topping by placing 1/2 cup butter and 1 cup water in a saucepot. Bring to a boil. Remove from heat and add almond extract and 1 cup flour. Stir vigorously until the dough forms a ball. Use an electric hand mixer to beat in eggs, one at a time. Mixture should be smooth and the consistency of frosting. Spread puff topping over the Cherry-Almond filling. Bake 45 to 50 minutes, until puff topping is golden brown.
Allow to cool on baking sheet.
Mix frosting ingredients until smooth. Frost the Cherry Almond Puffs. Sprinkle with sliced almonds. Slice into fingers and serve.
Sue Doeden is a popular cooking instructor, food writer and integrative nutrition health coach. She is the host of Good Food, Good Life 365 on Lakeland Public Television. Her own hives full of hardworking bees and her love of honey led to the creation of her recently published cookbook, Homemade with Honey.