San Francisco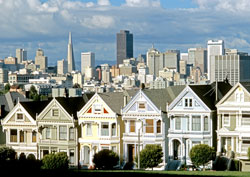 It's so darn good to get awaaaay. I'm bored with the predictable patterns of my home life: my constant computer, my cooking, my own backyard. My brain craves novelty, my tongue new tastes, my eyes new vistas, but my complacency wants it all to come easy--so good to have work in the Bay Area of Northern California.

How auspicious that American made my Alaska Airlines flight disappear so I was forced to discover Virgin America—a mishap that reminded me of how much I used to LOVE to fly. The moment I went to the ticket window, where the desks are invitingly low, the ticket sellers sympathetic, and the platform weighing your checked (free) bag at ground level so you don't have to heave it high, I felt soothed. And once I boarded the plane, the lighting massaged my eyeballs and felt far more flattering than the overhead glare of most terrorist scaring flights. Thinking I look good as I parade in a pinkish purplish glow past the first class flyers always puts me in better spirits sitting in coach.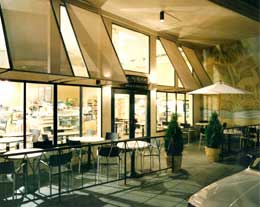 I keep trying to figure out why the Chinese Chicken Salad served at 'Comforts Cafe' is so uniquely spectacular. Well, first: as we've all infused, everything is location, location, location. And this chicken salad lives in a fabulous spot in a dreamy, mythic redwood-filled community. 'Comforts' is a very aptly-named, truly comfortable, small but open hang-in, hang-out, take-out restaurant on a small main street in the small northern California town of San Anselmo. It boasts daily, wonderfully creative specials including a brilliantly, non-greasily sautéed Chicken Okasan, innovative egg breakfast dishes with fresh local seafood and Sonoma jack cheese and veggies.
If you've never been to San Francisco you need to know our Summer starts NOW. Yes, in September. Not only is it pretty and warm and sunny but Summer produce--tomatoes, corn, pepper, and peaches are all ripe and delicious at the moment. It's easy to roll your eyes at our "sustainable, local, organic" mantra, but while you're here, be sure to try some of these bites of Summer.