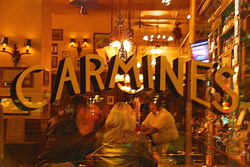 My new best friend, Laraine Newman, recently took me to Carmines here in Los Angeles, an old school Italian joint that was once the stomping grounds of the Rat pack. From what I heard, there was quite a lot of stomping that took place there. Not only rich in City of Angels History, it has terrific food and a staff eager to please. If you ever feel the need to step back in time and slip your butt into a comfy old red leather banquette that boasts the resting places – at least temporarily – of such legendary butts as those belonging to Dean Martin, Sammy Davis Jr., and Frank Sinatra, this is the place. A history of Carmines is available on this site, written by Laraine, and is well worth the read.

However, my Carmines story involves the other coast. In the early 90's, Godfried Polistanna and partners opened what was the first new 'Family Style' restaurant in maybe fifty years on Manhattan's Upper West side. Designed to look like it had been there for ages, it was also as 'old school' as a new place could be. A huge space with lots of dark wood, simple tables and white linen, it was adorned with mismatched chandeliers and lamps, its walls covered with old photographs of every conceivable Italian looking man, woman, child and family. It was a revived Don Peppi's in Queens, a throwback to the Italian joints on Arthur Avenue in the Bronx, and it was a huge, huge hit. Most nights the wait for a table was two hours, maybe more. People couldn't get enough of it.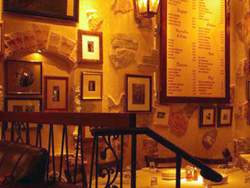 It's still there, of course, as is one in Midtown Manhattan, Chicago and Paradise Island in the Bahamas. There may be more out there, I don't know. But I do know that people had no idea how to order off a menu on the wall or what the hell 'Family Style' was. Patrons would have to be schooled in the concept real quick and warned that these were not plates of salads or fried calamari or spaghetti and meatballs-they were platters meant to be shared. And being New Yorkers, they didn't believe you. So it was always fun to watch them get buried alive under the food that would arrive: Their bodies disappearing behind the mounds of Lasagne, Porterhouse Contadinas, Linguni with Clam Sauce, Veal Parmigiana, Chicken Scarpariello or the three pound lobster Fra Diavlo-who's bowl was big enough to bathe an infant in. A big infant.

As a waiter on and off there during the nineties all this food was a treasure. Not only were we making great money but we would leave – or at least I would – with stacks of leftovers for friends and family providing they moved quickly. Lots of people, you see, were staying in hotels or heading out someplace after they visited, so carrying around thirty pounds of leftover Italian food (and they go heavy on the garlic there – 500 pounds a week if memory serves) was impossible. Plus the waiter (ME) would assure them that the food would find a good home and not be wasted. It rarely was. I thought for years that my weight problem was Carmines related. Sadly, time has taught me otherwise. I could work in a raw food restaurant and still put on weight. One night I was having a magnificent dream about the most extraordinary, delicious food I could imagine. In the morning I woke up shocked to learn that I had actually eaten my dream the night before. All that was left were crumbs in the bed. But, oh…….what crumbs!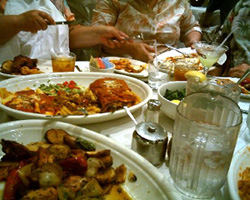 The other thing to keep in mind was that we opened at 5 pm for dinner, so by about 8 or 9 the staff was getting hungry again. Many is the time we wrapped leftovers with the 'one for you, one for me' rule in effect. And we had to be fast since we were so busy and the managers frowned on such behavior - unless of course, they were feeling a little peckish themselves. I once ate a two-pound lobster (with another waiter) in about forty five seconds. I'm not proud of it, just saying is all.

And of course, there were the desserts. I take credit for inventing the concept of the dessert platter. Smaller in size, they were much better being assembled onto a huge platter and being laid to rest together in the middle of the table than scattered around. (I put a lot of thought into this folks, trust me). And time. I'd be in the back assembling these things when my other tables were wondering where the hell I was. Italian cheesecake, cannolis, platters of fresh fruit, tartuffo, spumoni, tiramisu, flourless chocolate cake, ice cream Sundays…it all went out and was devoured either by them or by us. One night I claimed to have eaten my own weight in Italian food. No one argued.

Oh…..such memories. Truth is I rarely go there anymore. Memories of my struggling days as an actor pop up, old friends still there when they should have moved on. Some people I still owe money to, whatever. Yet writing this has made me crave that food- I mean I'm really hungry right now and when I get a craving-to the point where I'm just thinking of getting up right now and hopping a plane.
John Scurti is an actor and writer living in New York City. His favorite roles are kaiser and onion. You might recognize him from the FX show RESCUE ME where he has played the LOU for the past five years. He recently moved down the block from New York's famous " Restaurant Row'. May God have mercy on his soul.