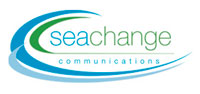 So, Twitter is really owning liveblogging, and I'm sure that what will come across more than the insightful views from people with big brains that I am being bombarded with here at the SeaChange Ideas Forum at the Starz Green Room in Denver, which has better A/C and food than all other refuges.
---
I just left a panel that Walter Isaacson moderated about nonmilitary solutions to combatting terrorism, and left feeling horrified about how inefficient and underfunded our perfunctory nods to this concept are compared to Britain, etc.
---
The United We Vote panel with Mario Solis Marich, Baratunde Thurston and Eric Garcetti, all of whom I'm a fan of is particularly interesting as an LA resident, where we watch wedges get driven between the two groups every three minutes. The overall question seems to be about the narrative, and the consensus that despite the lack of a continuous black-brown coalition, the rift is greatly overstated.
Garcetti mentions Obama's son-of-an-immigrant experience and how Latino voters will relate to it. I remember the plethora of right-wing blogs that were calling Bill Richardson an anchor baby for this, but I don't think that the Obama campaign should operate itself based on what right-wing pundits and blogs will say. I'm not sure if his strategists agree with me on this.
---
Garcetti: the telenovelas are standardizing the Latino experience = lol.
---
Ed O'Connell from the RAND Corporation is doing a one-man show expanding on the nonmilitary solutions to fighting terrorism. I've popped in in the middle here but he's showing pics of/talking about what women in Iraq are doing on their own, with no encouragement from US forces or the Iraqi forces, to help improve the lives of Iraqi citizens. O'Connell mirrored Drew Westen's observation that Democrats wouldn't mess up so much if they relied on more female political consultants in saying that we are not utilizing women enough for conflict resolution in Iraq and Afghanistan.
---
This guy is very smart, but is unknowingly repeating the death threats=progress in Iraq line about these women who put on plays and poetry readings in spite of bombings and death threats. I like the inspiring tale but the emergence of these cultural booms in the face of such danger is not any less of a story than the danger itself, in this naysayer's naysaying.
---
"Recognizing Propoganda" slide about the look of Hezbollah propoganda. Images meant to show worker support via throngs of people recognizable on both sides here.
---
Craig Fox on voting and behavioral science. I hope this makes me feel better about our chances than Drew Westen's similar presentation.
---
Nope. According to Fox, promise of a better future is nowhere near as effective as promise of restoring America's past.
---
Display gear = increased commitments = give out more campaign gear. I like it. If people have displayed you, they are then more pressed to give of themselves since they've displayed themselves as supporters. Does this mean that my band should give away T-shirts but not CDs?
---
A panel on the humanitarian crisis in Africa with Bobby Shriver and Samantha Power, which unfortunately will be one of the only discussions about this going on in Denver this week.
---
Bobby Shriver is right here about how in America the way to approach this = go after the money first and the message later.
---
Samantha Power: On September 12, we would've done anything we were asked to do and they asked us to go shopping. I agree, but I now do think that since all that good will is long dried up, creative capitalism (e.g. (RED), founded by the guy to her tight), which involves shopping is the best solution until we have any restoration of good will. Especially in light of the isolationism that abounds as the result of our flighty foreign interventions. There's plenty of good will right now, but Africa is an afterthought. Shopping, for better or worse, is the answer.
---
Yes guy, I'll watch your beer and make sure no one steals it.
Originally published on Huffington Post