How I love New York restaurants! I love my old standbys. I love the familiar friendly faces and food that I know exactly how it will taste. But, I also love going somewhere unexpected and original. This fall I fell in love with two new Italian restaurants both wonderful and both truly special.
Le Zie 2000 Trattoria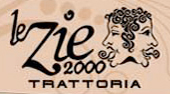 Please, promise me, you will not tell anyone about this incredible trattoria in the heart of Chelsea! It is a 'hood fav and if we all travel from the far corners of Malibu or East 62nd Street just to have a perfect and obscenely inexpensive Venetian spread – therefore overrunning it with "flatland touristers" - my friend, Brucino, will be very, very angry with me.
Brucino – aka Bruce Levingston – is the brilliant pianist of renown, whose latest CD, "Portraits – Bruce Levingston," has been described as "achingly beautifully played, a discrete and warm miracle." It was through his gracious invitation to dinner (and Oh! coming from the Mississippi Delta his grace is indeed gracious!) that we discovered Le Zie and its charming owner Claudio. Claudio loves to make special dishes for Brucino, but there was so much to desire on the menu and the specials put my head spinning, my darling husband, Bill and I were more than content with what lay before us:
Antipasti offer up such classic dishes as a perfect Venetian Style Bean Soup; (and I do mean perfect!), Steamed Asparagus, Poached Egg, and Seasonal Mushrooms; Cutting Board of Speck, Mortadella, Prosciutto, Coppa, Cacciatorino Salami, Lard, Grilled Polenta, and Parmesan Wafers; or Chicken Liver Pate on Croutons, Bacon, Cornichon with Carmelized Onion. The list goes on and all is delicious. As a reality sandwich – my perfect Bean Soup was $6.75!
Pasta choices include "Best Spaghetti and Meat Balls in Manhattan" (New York Press, Newsday); "Le Zie" Macaroni and Cheese with Black Truffles; Fresh Tuna Ravioli, Light Tomato, Tarragon Broth, and Crispy Ginger; – why go on? Throw a dart and be surprised!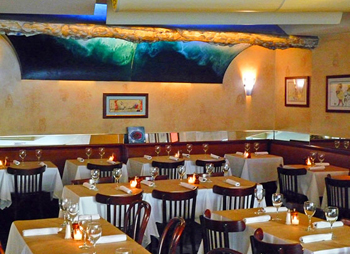 My choice from among the secondi piatti was the delicate Slowly Cooked Salmon, Horseradish Crust, Snap Peas, and Carrots for a mere $16.95. Bill ordered the most expensive main course on the menu ($17.95) the Roasted Chicken Porchetta, Rosemary, Oregano, Fennel Seeds with Garlic Mashed Potatoes, which he loved!
Checking out the brunch menu – among the usual brunch specials – I discovered (OMG) a Croque "Madame Le Zie" Whole-wheat Sour Dough Grilled with Gruyere Cheese, Smoked Ham and Egg!
Le Zie looks like the usual casual New York bare boned trattoria that welcomes long, relaxed dinners and great conversation, but surprisingly it adds to this atmosphere the elegance of a more haute cuisine food presentation, producing an unexpected but delightful "two-for." We were led to Brucino's favorite back room – the intimate Galleria – that has now become my favorite room... But, promise me, keep it between us!
Le Zie 2000 Trattoria
172 7th Ave (between 20th and 21st)
New York NY 10011
(212) 206 8686
MAREA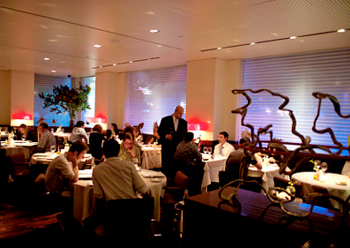 Might this be the best restaurant in New York? This Coastal Italian "Seafood shrine is a great catch!" Touted as breezy fine dining it is much more – located at the old San Domingo on Central Park South near Columbus Circle, it has become the in place for chic recognizable New Yorkers and the feeling is a bit like a private club with friends running into each other and chatting with great energy. (But, NO air kisses!) That makes it fun. What makes it wonderful is the incredible selection of exotic raw and remarkably cooked fish that simply makes one helplessly mumble; "wonderful, wonderful..." That is what makes it wonderful!
For those Left Coast foodies there is the friendly face of maitre d' George Barber, the John Schlesinger look-a-like who you will remember from Le Dome and L'Orangerie, but give him some leeway as it is nearly impossible to get a reservation. Ah, but do not despair; there is a fab bar that serves the complete menu!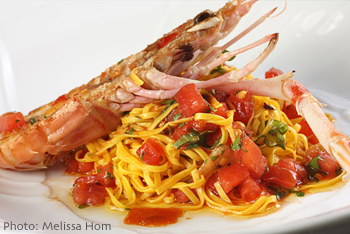 An Italian fish restaurant isn't unique, but Marea has fish on the menu I have never seen offered such as their Lancia, sliced raw Hawaiian Blue Marlin with sturgeon caviar and mussel vinaigrette; Pesche Volante, Flying Fish, with preserved Kumquat; or Maccarello, sliced raw Pacific Horse Mackerel with Crispy Prosciutto and basil!
… or Oysters – either East or West Coast – that are ocean-fresh and juicy, served with cucumber-lemon vinegar and morellino mignonette.
… Or grilled, split Langoustines; or Seppia, grilled Mediterranean Cuttlefish, braised escarole, taggia olives, and Livornese sauce. … Or a whole Branzino that Bill declared the best he has ever had.
By the time we got to dessert I simply asked for cheese and a selection of three perfect (oh again with the word perfect) cheeses arrived that melted in my mouth...
I am not doing Marea justice with such a short write up. Try it, knowing this luscious experience will be obscenely delectable and well, obscenely expensive!
MAREA
240 Central Park South
New York NY 10019
(212) 582 5100
Nancy Ellison, award winning photojournalist and celebrity portraitist, has authored fourteen books of photographs, including "Romeo and Juliet: The Love Story in Dance" and "Starlet". Her newest book, "Wagner's Eternal Ring" will be published this September by Rizzoli.