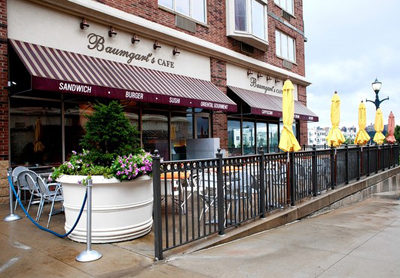 There's a place in New Jersey where you can have a New York milkshake with your sushi. Seriously. Baumgart's Café, name aside, is Asian with a quirky edge. I spent hours on their menu and I have to say that you can get anything. There's ice cream, of course, because they started as a soda fountain, but then the fun begins with sesame chicken, pastrami, gazpacho, duck crêpes, fries, salads, wraps, pot pies, an entire sushi menu, all your Chinese favorites, omelets, cappuccino, key lime pie, smoothies, egg creams and root beer floats. Those egg creams say we're not in Kansas. Where we are is across the Hudson in Edgewater.
We're zooming to dinner, as much as anyone gets to zoom which is not very much and certainly not in a New York minute. And not when your GPS lady freezes; I don't know why she freaked as soon as I crossed into New York. From Baumgart's patio, I stare longingly at the Upper West Side, the Empire State Building and all the snazzy real estate since the last time I was here. We love Manhattan even from afar but not too far.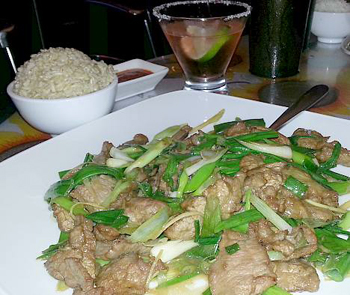 We're seated in the back room's classic "black tile floor with disco sparkles." Their online menu, drunk with technicolor sushi, sets off the in-house menu that's pretty standard. Lita orders Mongolian flank steak with brown rice, pea pods, scallion and greens spun in a Szechuan setting. On the side is sauce that will take you out: an evil mix of soy, ginger, garlic, sherry and chili peppers that's in your face running down your chin. Lita, however, is calmly pouring it on.
Peter has miso glazed Chilean sea bass ($20) with pea pods, mushrooms, broccoli and Asian vegetables. Grilled to a flake fish is mellow. (I ran into miso marinade in Portsmouth, NH that was equally fine. You think it's going to be salty but it's not.) His sauce is fruit peppery that plays nice with bass and beer. And did I read they have sushi pizza and a berry berry trifle? It's in my notes and yet I can't find it.
The purist goes plain with salmon. It's grilled, plated with asparagus and enoki accents. I want some of Peter's fruity sauce in place of soy. It's a huge piece, the menu says it's a pound ($19) and I'm sure it is and they're happy to pack what's left. Later, I turn it into fish salad with celery and a spoon of Hellman's. Everyone, even haute cuisine purveyors, packs what's left. Someone could do a story about that.
Music is Saturday night special loud with a pound of TV video soccer games. There's no way anyone in this crowd's having a root beer float. That's okay, who are we not to multi-task? Think about it, Baumgart's started with ice cream sodas and look what happened: Cosmopolitans, mai tais and appletinis sharing real estate with Ginjo and Ozeki sakes alongside chardonnays and merlot. Chinese eggplant is down the page from baby back ribs, house duck, fried rice, pad Thai and BLTs. And yes, it is funny to see the sushi chef's station right next to, Peter points out, a real soda fountain. Will they think I'm weird if I ask for an egg cream?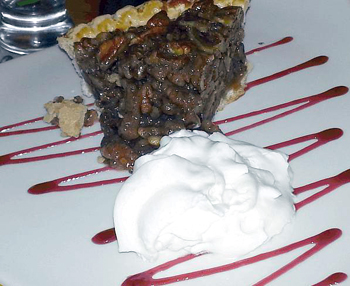 It may be a high decibel weekend but they let us know it's time for dessert and to make it snappy. It's pistachio ice cream: as creamy and nutty as you could wish for. It wasn't easy for Lita choosing pecan pie over, say, the cheesecake, apple crisp, carrot cake, banana chocolate or walnut coffee cake. It's eggy and not too sweet just the way I used to make it. I really did make my own, to impress an old boyfriend, along with French fries, dill pickles, Florence's pickled salmon, angel food cake, cream cheese frosting, and shrimp steamed in beer. Of course I hate myself in the morning.
So what do we think? It's an insane adventure and quirky all right. I could see myself coming for brunch with sleepy friends who can't decide between scrambled eggs or dim sum. It's New York: we mix some of this with a little of that. Once a New Yorker, always a New Yorker.
Baumgart's Café
59 The Promenade @City Place
Edgewater, NJ 07020
(291) 313-3889
© Photos by Lita Jefferson and Peter Goldring. Kitty Kaufman is a Boston writer. See more of their food adventures at Corporate Edge and follow Kitty Kaufman on Twitter.