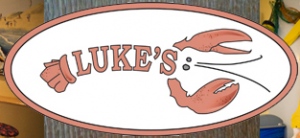 Winter on the Upper West Side of New York is a strange time and place to open a lobster shack. Where's the beach, for example? Where's the sun? The seagulls? It's hard to conjure up seafood by the seashore when you're standing thigh-deep in slush. But open it did – Luke's, that is – on Amsterdam, between 80th and 81st and I, for one, couldn't be happier. I'm an actor; I can pretend it's summer.
Luke's first shack opened on the Lower East Side in 2009 and with its success, added two sister shacks uptown – Upper East Side and one smack in the middle of our Culinary Wasteland. Luke's story has already been well documented: born and bred in Maine; working as an investment banker in New York; his father runs a seafood packing plant in his hometown in Maine; he decides to partner up with his dad and bring the true Maine lobster roll to New York City. The rest is history, which means to say that Luke's lobster roll is considered if not the best in town, certainly one of the best.
There have been quibbles, of course. I read all the blogs:
1. Some say the roll is a little pricey — $15.00. I think it's a steal, given the amount of lobster piled onto it.
2. Some say that during the depths of the winter months, the lobster meat is frozen. This is true – admitted to by Luke himself. You don't get fresh in the middle of the winter. That's life on the lobster boat, folks. But the frozen meat is easily good enough – given the butter-toasted bun and the sprinkle of celery salt — to transport this old East-Coaster into the middle of July.
3. Some born-and-bred-in-Maine types insist you can't get a real lobster roll outside of Maine, Yeah. Duh.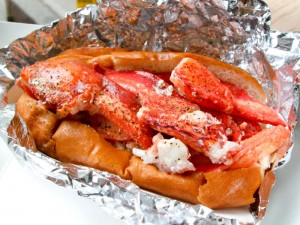 The reason this sandwich rises above the crowd is that it seems like there's nothing in it but lobster – lobster piled generously onto a butter-toasted bun. That's it. This also is the secret to a great crab cake, by the way – that it gives the impression there's nothing in it but crab. It's not true in either case, but that's okay. The art is to give the impression – just lobster – buttery rich, sea-scented chunks of Maine lobster – chunks – not strands or tendrils or bits that are drowned in mayonnaise, choked with celery, sugared like breakfast cereal – but big, satisfying perfectly-cooked chunks to bite into.
Oh baby, oh baby. I like the size of it – meaning it's not too big. It's contained in a hot dog bun. Lunch, for me, is best when it's not such a big production, because I know that in just a few hours I'm going to be tucking into a big dinner with wine. I can't do both or I'll never get down to 135 pounds. Lunch for me, ideally, is about half the volume of what I consume at dinner. So lobster piled onto a bun is just about perfect. Or I guess I could have a salad.
Welcome to the neighborhood, Luke!
Michael Tucker is an actor and author whose third book is the recently published Family Meals: Coming Together to Care for an Aging Parent
. You can read more about his food adventures on his blog Notes from a Culinary Wasteland.