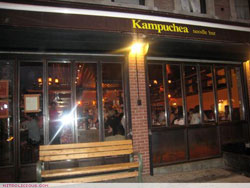 Alex and I have been dating for almost four months now. We have shared several meals and conversations together beyond Casa Mono. As our relationship has settled into a 'monogamous' place, we have both expressed fears about reaching a 'monotonous' place, – when your boyfriend lives in the same neighborhood, in my case the West side (Chelsea/West Village), every date begins to take place within a twelve block radius – emphasizing the potential for "monotony" (not be confused with monogamy). And, while the dining options are both vast and enticing, you start to feel like you are placing your relationship under quarantine.
On a recent Wednesday night, we ventured out. We took what to us was a somewhat lengthy cab ride to a restaurant on the Lower East Side (Allen and Rivington) and as soon as we stepped out of the cab, there was a breath of relief. I thought to myself, "We're not old or boring…we just underestimate taxis."
Our destination was Kampuchea, an eatery known partly for being the only Cambodian restaurant in the city. Needless to say, neither of us are exactly connoisseurs of Cambodian cuisine, but since we were brave enough to leave our neighborhood, our palettes were gung ho for leaving the country altogether.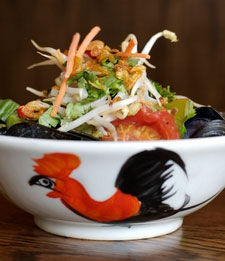 I got the impression eyeing the room that the crowd was not a crowd of first-time diners, more a group of eclectic regulars. It lacked pretension and had a communal feel. The restaurant is lined with dark wooden tables, framed by industrious brick walls, like a local English pub, whose blue-collar, dinge has been replaced with a sleeker, Southeast Asian aesthetic.
We settled into an intimate spot toward the back of the room. Our waiter explained that the menu is influenced by Cambodian street food, reminiscent of Kampuchea's chef and owner Ratha Chau's childhood. A few items leapt out at me from the menu, lemon grass smoked duck breast with pumpkin puree, green mango and herb salad, but feeling adventurous from the cab, we decided to let the chefs in the kitchen pick our meal for us....
What arrived was a parade of flavorful finger food, eliciting verbal moans of satisfaction. We began with rum blue crabs, diced with chives and red onions and coated with a honey soy sauce that is worthy of several, shameful finger licks. Alex's glass of Riesling, which he thought quite exceptional, was paired perfectly with the dish, and was one of several options on an impressive, reasonably priced wine list. Our next arrival was a small, well-stacked plate of tamarind baby back ribs, served with cilantro and lime dip.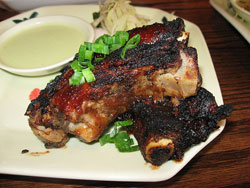 Lately, New York has gone through a ribs craze, with barbecue places popping up like Hill Country and Wildwood. However, the flavor and texture of these ribs was a welcome surprise from the standard southern fare. The Durac pig literally fell off the bone like melted butter, and the accompanying sauce added a tangy, unexpected flavor, much more refreshing than a smothering of A1. The wonderful part about sharing appetizers like this, eating them in an almost animalistic way, is that it really creates an experience with your dinner companion. Alex and I weren't just having dinner, separated by two dishes with a fork and knife. We were having a shared, indulgent experience, which makes for a truly great date.

Before we had a minute to digest and finish a conversation filled with resentment about fantasy real estate, a personal favorite of ours, our server brought what I can say was undoubtedly the best part of the meal; a sample of Num Pang, Cambodian sandwiches. If you are a sandwich fanatic like myself, constantly in search of new variations on this diet staple, the Num Pang at Kampuchea are not to be missed.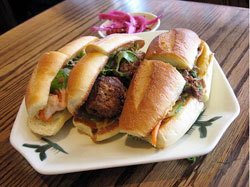 Our Num Pang sampler included coconut tiger shrimp, sweet pulled oxtail in a spicy tamarind sauce, and house cured bacon with charred whole pickled Thai chilies and red onions. All of these were served on a toasted baguette with the best condiment known to man, chili mayo. While Alex didn't have an ultimate standout, expressing to me that "there wasn't a dud in the bunch," I was taken aback by the house cured bacon. The bacon was something of a bold, juicy wonder, putting my corner deli's BLT (sorry Hudson Street) to shame. I couldn't fathom how some of these dishes were Cambodian Street Food!
At this point Chef Ratha approached our table. Although he was casually dressed, lacking the pompous aura of your typical New York restauranteur, he had a commanding presence, albeit a softened, approachable one. In other words, you could definitely sit down and have a beer with him. Ratha is an interesting, charming guy. A Cambodian refugee, Ratha started working in the restaurant scene in Boston, ending up in Manhattan at eateries such as Blue Water Grill and Asia De Cuba.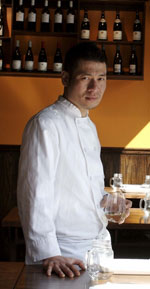 Kampuchea is far more personal than either of these venues, and it is clear that Ratha really wanted to make his own mark with it. When I asked him about the inspiration drawn from street food, Ratha made an interesting point, arguing that in kitchen's today, authenticity, is an ambiguous term. In this case, the authenticity lies more with the preparation of the dish as opposed to the ingredients themselves, which made perfect sense after we reflected on each dish. The magic of Kampuchea, I found, is in the technique.
Kampuchea was what every date should feel like – an experience. It gave us a taste that went beyond our own cultural environs, and dare I say, educated us! Our minds, our stomachs, and our relationship is better for it. And we might just become two of the regulars.
Kampuchea
78 Rivington Street (on the corner of Allen)
New York, NY 10012
(212) 529-3901
Hope Stranger is the creative manager for www.celebrifantasy.com. She lives in New York City.