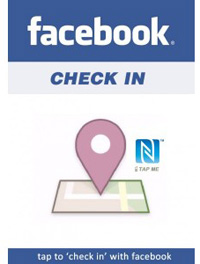 "I just need to get out of the apartment." I whined to my friend Blaine on the phone.
"It's raining." He replied.
I looked out the window. It was just drizzling.
"I don't care. I need to do something different today."
"Spend a little time on Facebook this morning?"
Ooohh. Busted. It was true though. That morning I had fallen into a k-hole of friend's Facebook check-ins as they were out exploring, tasting, and experiencing the world. My life looked really black and white in comparison. Of course, I know that this is a common trap to fall into these days.
While Facebook might be good for keeping up with people without exerting very much effort, it is basically a way to promote your life by showcasing only the highlights. This summer I ran into an old friend at a party and I told her how jealous I was of her vim and vigor (the activity I only know about through Facebook). She replied that her life really wasn't that exciting, it's just that you don't post on Facebook about sitting on your couch crying while eating a pint of ice cream.
Knowing this only gets you so far.
"OK. I think I know just the place. Meet me on Broadway and 96th." Blaine said.
"Perfect. I'll see you in a half hour."
One of the best things about living in New York is how many authentic regional cuisines you can experience by exploring different nooks and crannies of the city. I'm not even talking about the cool, trendy restaurants that the city is bursting with. I'm talking about the cheap, not fashionable, sometimes even questionable establishments that have been in the city for decades. They are disappearing one by one, but Blaine has a magical power to suss them out.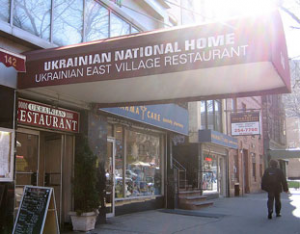 Blaine and I are both fearless and tireless New York walkers so we spent a few hours trekking in the drizzle from the Upper West Side to Little Ukraine in the East Village. A few doors down from Veselka, the most popular and trendy Eastern European restaurant in the neighborhood, is Ukrainian East Village Restaurant. It is hidden in the back of the Ukrainian National Home building and not a restaurant I would have found without Blaine's assistance.
We stumbled in, tired and damp, desperate to eat without being judged or chastised in the traditional New York manner. And boy did we (though I think our waitress judged us every step of the way).
The room at Ukrainian East Village is so outdated it's almost back in style. The wood paneling is lit by a combination of fluorescent tubes and dimming bulbs from various ancient chandeliers. It's not tacky-cool, but more authentically unchanged. It's a soothing room to sit in and lose the swirling world outside. It was just what I needed.
We started our meal with warm borscht. Though I hold strong to the belief that I'm a beet loather, every time I eat a beet dish, I really enjoy it. This was no exception. I happily slurped each purple spoonful down, delighting in the sweet soothing chunks as they warmed my cold insides.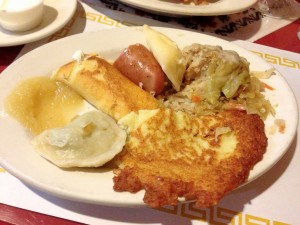 Then my good friend Blaine uttered those words every girl longs to hear… "We'd like the large combination platter." Pierogies two ways (cheese and spinach), stuffed cabbage, potato pancakes, blintzes, sauerkraut, applesauce, sour cream, and kielbasa. Our waitress made a snort at our order, as though we'd never finish everything, and I made a grunt back as though she really had no idea who she was dealing with. We were like two wild beasts communicating non-verbally. At least, that's how I saw it. Don't tell her I said that though.
We ate slowly, relishing every bite. I eat this type of food so rarely that it felt great to just go for it. The salty kielbasa and kraut mixed with the starchy potato pancake. The cheesy pierogie with applesauce and sour cream mixed with tangy stuffed cabbage. Any direction I drove my fork on the plate made a delicious combination. It was like Thanksgiving that way. I couldn't eat that way often, but on that day it was just perfect.
I ordered a batch of pierogies to take home to Shannon, who was not able to join us on our voyage downtown. The waitress brought me a box of frozen pierogies, instructing me to boil them for 5 minutes when I got home. They were good, though I'm certain there is a difference between eating reheated pierogies in an apartment on the Upper Upper West Side and fresh ones in Little Ukraine. Shannon just didn't seem that impressed.
I was inspired though and set to work on updating this classic. I made these with a combination of homemade ricotta cheese, spinach, and caramelized onions and then dipped them in homemade applesauce and plain Greek yogurt. They were so good they lasted about an hour. In these dark winter months, it's nice to have a little something to look forward to. These do the trick very nicely. They are like little pockets of comfort.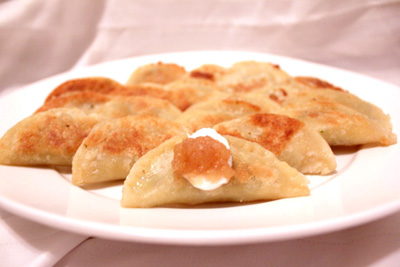 Spinach and Ricotta Pierogies
Makes 18-20 pierogies
Dough
2 cups all purpose flour or white whole wheat flour, plus extra for kneading and rolling dough
1/2 teaspoon salt
1 large egg
1/2 cup Greek yogurt
1/4 cup butter, softened and cut into small pieces
In a large bowl, mix the flour and the salt. Beat the egg in a small bowl and then mix into the flour mixture. With a wooden spoon, add the ½ cup Greek yogurt and the softened butter pieces. Knead together by hand or in a food processor, being careful not to overbeat.
Cover bowl with plastic wrap and refrigerate for 30 minutes or longer (dough will stay fresh for up to 2 days in fridge).
Spinach and Ricotta Filling
2 tablespoons unsalted butter
1 small yellow onion, finely chopped
1 cup ricotta cheese
1 cup frozen chopped spinach, thawed and squeezed out, or 1 bag of fresh spinach, chopped
Salt and pepper to taste
Heat the butter in a sauté pan until the foam subsides. Add the chopped onion and sauté until the onion become translucent – about 2 minutes. Season the onion with pinch of salt and a sprinkle of sugar and let cook on a low flame for another 10 minutes or so to become caramelized. Add the spinach and sauté for another minute. Take off heat and let cool.
In a bowl, mix the cooled onion, spinach mixture with the cheese. Add salt and pepper to taste.
Making the pierogies
Bring a large pot of salted water to a boil.
Take the dough out of the fridge and, on a floured surface, roll dough out to about 1/8 inch thick. Using 3 inch round cookie cutters, cut the dough into circles.
Wet one edge of the round with water, fill the center with a tablespoon of filling, and press the edges together. Using a fork, indent the edges with the tines to further seal and beautify.
As you work, set your filled pierogies aside on a floured surface and cover them with plastic wrap.
Working in batches, drop no more than 6 pierogi at a time into the boiling water. After they float back to the surface, allow them to cook another 2 to 4 minutes. Remove the pierogi with a slotted spoon and place on a towel to drain and cool.
Heat 2 tablespoons of butter in a large pan and briefly sauté the pierogi until they turn crispy and brown. Serve with applesauce, sour cream, or Greek yogurt.
Alison Wonderland Tucker is a chef and caterer who lives and works in New York City. She writes about her love of food and life as a chef on her blog A Wonderland of Words.