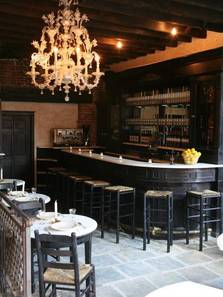 We ate some wonderful Venetian bar food at Bacaro last week. Tucked away on adorable Division Street that runs on a slant between Chinatown and the Lower East Side, Bacaro unwinds down the stairway from the busy bar to the brick vaulted dining spaces below.
Dining in Venice can often be disappointing because so many of its restaurants are shamless tourist traps. It's been that way since before the Renaissance. It's the only town I've been to in Italy where there are more bad restaurants than good. But the crafty gourmand can eschew restaurants completely and eat and drink quite well in the many wine bars around town. They serve snacks on little plates — cichetti — along with a small glass of wine Venetians call un ombra, a shadow. I think the reference is to the art of taking the edge off the day.
Bacaro celebrates this particular style of Venetian eating and drinking — it's bar food, but a bar with a very good kitchen in the back.
Sardines in saor is the classic cichetti. Bacaro's version with its sweet and sour sauce napping the fried sardines and wine-soaked raisins makes your mouth immediately call for another glass of Verdicchio. The same with the spicy fried meatballs, which I mistook for fried olives on first taste. That shows what an educated palate I have.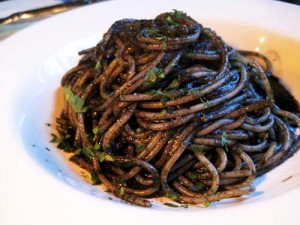 But whatever the hell they were, I couldn't stop popping them into my mouth.
Along came a plate of spaghetti nero — pasta with cuttlefish ink — that Bacaro presents with a coddled egg on top.
I rarely order inky pasta because it's usually too salty for my taste, but Bacaro's cuttlefishes squirt out a milder version than most of the octopi I've encountered. I found this dish the best of this genre I've come across.
Others in our group had to wrestle the plate from me.
Baked razor clams were another highlight, as was the fritto misto, as was the grilled shrimp over polenta. We have to go back so I get a crack at the fried oysters.
BACARO: 136 Division St New York, NY 10002 / (212) 941-5060
Michael Tucker is an actor and author whose recent novel is "After Annie
." He writes about his love of food on his blog Notes from a Culinary Wasteland.