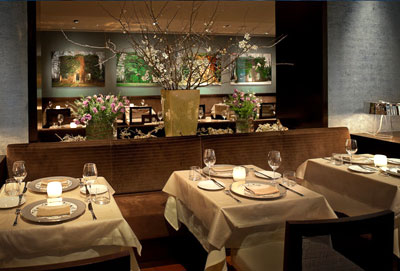 The Big Dog and I lunched this afternoon at Ai Fiori, The Big Dog is my high-priced attorney. We were discussing some ultra-subtle legal maneuver that could only be fully investigated in a very, very good Italian restaurant. You'll be happy to know that we solved all our problems — and everyone else's, as well. It was a very nice lunch.
Ai Fiori is a Michael White creation. I had dined at his Marea after everybody told me this guy made the best pasta in town. I was concerned about this because I thought I made the best pasta in town. Well, okay, he gets paid for it and justifiably so.
Ai Fiori is sleek and rich. It's on the second floor, which allows a nice light through the windows and a quiet midtown buzz. It's in the Setai Hotel, which is a lovely new hotel on Fifth Avenue just below Thirty-Seventh Street.
The lunch menu is prix fixe – a choice of any two courses for thirty-six bucks, which given the quality of food, has to be one of the best deals in town.
I started with the veal agnolotti, which is a signature dish. It's described on the menu as "braised veal parcels, caramelized onions. Ramp pesto, pine nuts" – all of which were there and all very good. But the first thing that hits the mouth is a surprisingly sweet butternut-squash puree, which sets up your palate for the tastes to come. It's great and a total surprise. Then the ramps; then the pine nuts – crunch, crunch — very nice.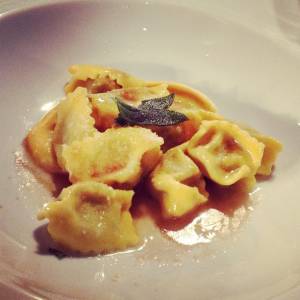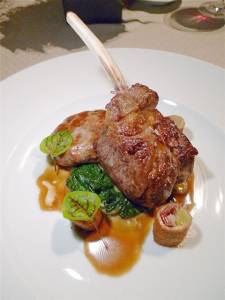 I followed up with the lamb chop with mint, peas and a goat-cheesy sauce. Again, it was delicious. If I had to carp at all, it would be that the preparation of the chop itself was a tad French for my country Italian sensibilities; I like a little crust on the outside of my lamb chop to frame the rosy, yielding sweetness inside. A small quibble.
This all went down beautifully with a glass of a red blend from Liguria, called Colli di Luni rosso La Almagesto. It was delightful, but not aggressively so. I like when the wine turns the show over to the food rather than commanding the stage itself. Okay, I had two glasses.
The Big Dog had a lobster salad and a glass of Sancerre. He registered no complaints.
AI FIORI: Setai Hotel Fifth Avenue, 2nd floor, 400 5th Avenue, New York, NY 10018 - (212) 613-8660
Michael Tucker is an actor and author whose third book is the recently published Family Meals: Coming Together to Care for an Aging Parent
. You can read more about his food adventures on his blog Notes from a Culinary Wasteland.