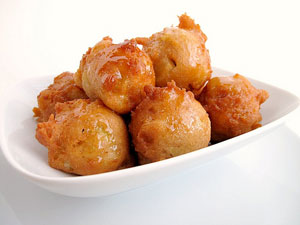 for the apple fritters:
2 Granny Smith apples, peeled, cored, and diced
1 lemon, zested and juiced
2 cups all-purpose flour
1/2 cup granulated sugar
2 teaspoons baking powder
1 teaspoon salt
1 teaspoon ground cinnamon
2 tablespoon butter, melted
3/4 cup whole milk
2 large eggs
1 teaspoon pure vanilla extract
canola oil, for frying

for the honey syrup:
1/3 cup honey
1/2 cup water
1 small cinnamon stick

Toss together diced apples with lemon zest and juice in a small bowl to keep from browning.

In a large bowl, combine the dry ingredients: flour, sugar, baking powder, salt, and cinnamon. Mix together with a whisk to aerate.

Combine melted butter, milk, eggs, and vanilla in a small bowl and beat together. Pour the liquid into the dry ingredients and mix until just combined. Fold in diced apples.

Warm 1 to 2 inches of oil in a large pot set over medium-high heat. The temperature of the oil should register around 350 degrees F. Test with a drop of batter.

In the meantime, make the honey syrup. Combine honey, water, and cinnamon stick in a small saucepan. Bring to a boil. Simmer on low until slightly reduced, about 5 to 10 minutes.

To make the fritters, using a 1-1/2-inch releasable scoop, drop dollops of the batter into the hot oil. Using tongs or a fork, turn the fitters so that all sides brown, but they should turn themselves. Fry, in batches, until golden brown all around, about 3 to 5 minutes. Remove to a tray lined with paper towels to drain. Serve drizzled with honey syrup. Yield: about 32 apple fritters.
- Recipe courtesy of Joseph Erdos