Bettie One sang like a bird and dressed like a pirate and sent my libido into overdrive. She was an intoxicating beauty with a multitude of talent. But she didn't have a talent for food presentation.

One dinner in particular stands out. Maybe "stands out" is the wrong way to put it. "Haunts me" is more like it.

Everything she served that night was white. Poached halibut with basmati rice and fettuccine Alfredo. I had never seen an entire plate of white food before. And to make things worse, dessert was coconut cake.

Food has to have eye appeal, and this meal was like an all-white Rubik's Cube. There was nowhere to begin and no way to figure it out. It would be a mystery forever.

After that colorless dining experience, we started going out to eat a lot more often. Bettie One always appreciated it when I gave her the night off. But the one really getting the night off was me.

That became our routine, and my credit card bills were astronomical. Spending a fortune to keep Bettie One out of the kitchen wasn't the answer. So I figured if I could work something out where we just saw each other between meals, things would be great.

That didn't work, either. She started having dinner with someone else and married him.

Years passed. Then, one morning, the phone rang. I answered in a half-sleep.

"Hello?"

"What are you doing this weekend?"

The sound of Bettie One's voice instantly woke up the half of me that was still half-asleep.

"Whatever you're doing, cancel your plans," she insisted.

"Why?"

"I want you to go out with my sister."

It's not every day that a guy gets an offer like that.

I had never met Bettie Two before. She lived out of town and opted for a life along a road less traveled.

She drove down to LA, and I went to pick her up at her friend's house in the Valley. When she opened the door, I damn near proposed.

Bettie Two looked nothing like Bettie One, but she was equally striking – a beautiful, tanned face framed by ringlets of golden hair and a body that could make a monk reconsider his vows.

I took her to a party, where she and our story were both big hits. We just met and already we were a gossip item.

On Sunday, we had lunch at the beach. We sat outside and discussed Matisse, Iraq and David Lynch movies. Before we knew it, the sun was beginning to set, and the seagulls had moved in for whatever scraps the beachgoers had left behind.

Soon, it was time for Bettie Two to pack her things and head back home. But before we said goodbye, three promises were made. We promised to see each other again, I promised to drive to her, and she promised to cook for me.

Suddenly, a horrendous thought came to me. What if Bettie Two learned to cook from Bettie One?

Nevertheless, I kept my promise and drove up to see her, excited yet dreading the possibility of fettuccine albino.

When I got there, I poured myself a drink, just in case I needed to count vodka as my appetizer.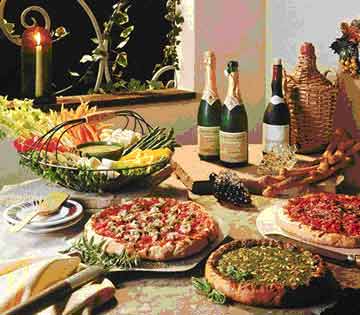 When dinner was served, there was color everywhere. Nothing was white. Not even the wine.

The Betties were different in so many ways, and I was crazy about both of them. But Bettie Two could never get past the fact that her sister and I had been involved, so we became good friends and nothing more.

But with our great friendship has come many great meals.

So thank you, Betties. That one white dinner has brought years of color into my life.
Robert Keats is a screenwriter and humorist.