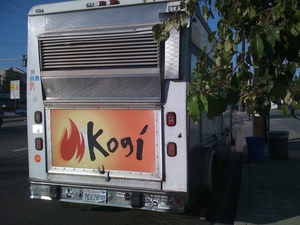 Unless you've been living under a rock you've likely heard of Kogi BBQ, LA's twitterific Korean-Mexican fusion truck. If not, allow me to introduce you. The Kogi BBQ fleet, now three trucks strong, travels all over LA, from Torrance to Glendale, on a day-to-day basis, informing the public of their locales via everyone's new fave social network, Twitter (@kogibbq).
On weekends Kogi occupies the kitchen at Venice's Alibi Room. This is where I first enjoyed the delicious fare, but as my BFF Brendan was recently in town and we decided to hit up one of their trucks, the way it's meant to be. We accidentally arrived early , which was a blessing in disguise as it took no time for quite a line to grow behind us.
We kept it real by ordering two beef short rib tacos, two spicy pork tacos and their Kogi special, a spicy pork, Jack cheese quesadilla topped with Kogi's new salsa verde.
Doused with some sriracha, we couldn't help but down this shit asap.
Sure, there can be a wait and sometimes it's annoying to run around town after an arguably overrated taco truck, but Kogi is downright delicious. I love fusion and Kogi makes it right.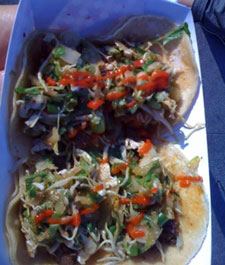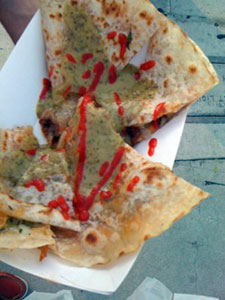 from his blog Telly Says "Eat Me!"...