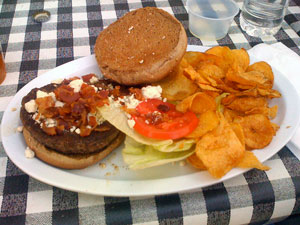 Not only were we celebrating our nation's birthday this past weekend, but the birthdays of two of our closest friends as well, one born on the 4th, one on the 5th. Since nothing says summer like burgers and hot dogs, we all rendezvous'd to "The Stand" in Encino to get our grilling fix with no preparation or clean-up necessary on our part.

This modern diner/burger joint is so right up our alley we couldn't believe we'd never heard of it before, especially since it's only 15 minutes from our house in Studio City. My husband has an uncanny knack for sniffing out any establishment that serves a true Chicago-style hotdog, so perhaps its location on the west side of the always-congested 405 Freeway has something to do with his failure to find this place. I think the constant traffic must have jammed his radar.

The menu is quite simple, consisting of various versions of the hot dog/sausage, including every topping imaginable, about 8 different burgers, 5-6 salads for those looking to watch their cholesterol and a number of other sandwiches of the chicken variety. Everything comes with their own Stand-made chips or for $1 extra you can add fries or slaw. The prices hover around $7 for most meals, which is pretty affordable for the amount of food you get. Plus, they have a beer and wine license – a necessity for our possé. You take whatever seat you want, order inside and they bring your food out to you.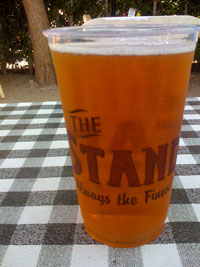 Given the laid back environment – we ate outside in the garden which is one step up from eating at picnic tables, but pleasant nonetheless – I actually had my first beer in a long time, their own Honey Ale, and was surprised at how much I enjoyed it. That they have Sam Adams on tap as well scored them extra points with the husband. The price, around $4 a pint, is practically a steal in this town. The wine is sold by type (Merlot, Chardonnay, Pinot Grigio), but at least they're trying to accommodate those who want a glass with their dinner.

Our group was split between burgers and dogs, though it seems when it was all said and done, those who ordered the dogs were more satisfied with their choice. My patty melt was good but needed more cheese and was grilled a smidge too long. My husband wished the blue cheese on his Big Blue burger was a slice instead of crumbled (see above photo) as it wasn't melted enough and kept falling out of the bun.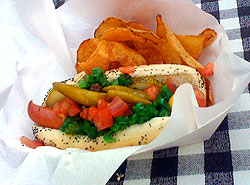 The birthday girl's Chicago Dog (steamed dog, pickles, diced yellow onions, diced tomato, neon relish, sport peppers, mustard & celery salt) was apparently absolutely perfect. Approved by both her and my husband, a ChiTown native, who had to have a bite. Personally the kryptonite-colored relish scares the crap out of me.
The Big Red Dog was so spicy it almost brought another friend to tears, which is exactly what she wanted. Of the two low-fat sausage entrees – the Texas Turkey and Chicken Apple – it seems the former was too dry and bland, but the latter hit the spot. The fries, slaw and chips weren't the best we ever had, but perfectly edible and quickly consumed.

While we weren't knocked off our feet by the food it equaled our expectations and the atmosphere was fun and casual, which was perfect since we had three kids with us. We will definitely be back to indulge in their breakfast menu. It's almost impossible to find a place in the San Fernando Valley that serves eggs of any sort (we have a true love for the Breakfast Burrito) for under $8, so this place is first on our list of new places to try. Hopefully the food will be as good as the prices.
THE STAND
17000 Ventura Blvd
Encino, CA 91316
(818) 788-2700
They also have three additional locations in Woodland Hills, Century City and Westwood Village.
Lisa Dinsmore is a writer and web programmer. She has her own wine blog called Daily Wine Dispatch. She lives with her husband Dave in Los Angeles.