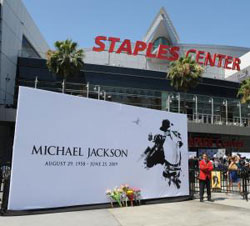 Last week, I had two major disappointments. I did not win the ticket lottery to attend Michael Jackson's funeral at the Staples Center and the red velvet doughnut at the Nickel Diner in Downtown LA was not red velvet.
I was fairly certain I would avoid Downtown and all of the MJ festivities after I learned that I didn't win seats for Michael Jackson's funeral in the ticket lottery. Better for the riot police to not have to deal with the likes of me: the aimless spectator. But having made previous plans to meet two staffers from the Los Angeles Bicycle Coalition that Tuesday at the Nickel Diner for lunch, I knew I would be in the neighborhood...
Then, I received a message from a young woman in Russia who wanted me to deliver a note to the funeral. You see, I participate in CouchSurfing.org so I regularly communicate with people from all over the world who want to visit Los Angeles. This particular traveler asked me if I would post a note and a flower in the fan area of the Staples Center in lieu of her coming to LA herself:
Michael, you for ever will remain in the hearts of
people, in my heart.
Equal to you is not present on the Earth more.
As it is a pity that god takes away the best.
The world without you has grown poor.
Very very painfully...
From Dariya from Russia.
After reading Dariya's heartfelt letter and how much she cared about MJ's death, I couldn't resist. I took my friend Matteo and we rode the Metro Red Line to 7th/Metro Center.
The fan area that Dariya had mentioned in her note was only open to funeral attendees. So, I used a twist tie and hung Dariya's message up on a fence behind a bunch of "water, pin, and t-shirt sellers." It was an odd atmosphere of sincerity and gross commercialization – did these salespeople really care? Matteo and I were interviewed by two indie documentarians with a handheld camera, but the sound didn't work, so we wandered away to watch the funeral on a TV at the Sheraton.
By the time I arrived at the Nickel around noon, I was feeling quiet and relaxed. I had finished my duty to society and now could move on to my other duty – reviewing doughnuts.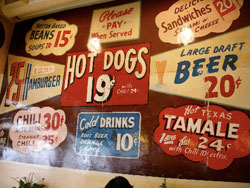 I was really excited to go to the Nickel Diner, located in a hip part of Downtown near art galleries, bars, and loft buildings. Being from Long Island, I'm skeptical of the "diner-themed restaurant" category, but I had heard a lot about the Nickel's maple bacon and red velvet doughnuts and wanted to try them.
The inside of the Nickel has a classic diner look, with red booths and is not too slick or fancy. Lunch will run you around $10 – not a bad deal.
But as soon as I ordered my grilled veggie sandwich, I was disappointed to learn that the diner was tapped out of many of their famous doughnut flavors. Our server tried to make it up to me by bringing over Nutella and strawberry shortcake-flavored doughnut holes to taste.
The Nutella doughnut hole uses Nutella and rolled nuts like an all-over glaze. It was very unique and I liked the crunch, but the inside – a plain cake doughnut – was stale. The strawberry shortcake flavor was moister, and had a nice sweet strawberry flavor, but didn't strike me as particularly doughnut-like (no hint of baking soda, no savory dryness). Its crumbly outside reminded me more of cake.
I ordered one red velvet for the table, to be served after our lunches, and I truly looked forward to it.
And though this review isn't about sandwiches, I have to say my grilled veggie sandwich was great. The vegetables were cooked perfectly – crisp and smoky on the outside – and the sandwich had oily yummy toast and a lovely accompanying salad.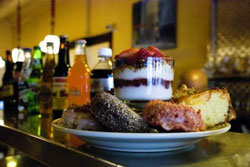 When our spaceship-like doughnut finally whirred over to the table, it landed in a to-go box which we didn't use. Didn't use because the doughnut was so bad.
What I expected to be a red velvet wonderland was actually a red glaze on a normal raised doughnut. The baker had sliced the doughnut in half and filled it with delicious cream cheese frosting, but even that couldn't save what was a dry, flavorless red crust on a doughnut that I had expected to be unusually moist and tasty.
I felt duped.
Walking home, Michael Jackson music blared from the electronics shops and old broke-down theatres along Broadway. Sure I was disappointed, but moreover I felt stuffed and harried, eager to continue on with my day. I thought about how time, care, and love bolster and enrich people's daily lives. I wished that the people behind the Nickel Diner would understand that these things, not notoriety or marketing, were what made or broke their menu. Sure, outer qualities make for a pretty picture, but not for a good dessert. As MJ says, Nickel Diner, "Make that change."
The Nickel Diner
524 S. Main St.
Los Angeles, CA 90013