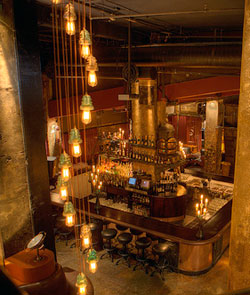 My husband and I are lovers of the grape, so we rarely indulge in hard alcohol, especially since it's usually more costly and the bars in Los Angeles don't exactly cater to our age range. It's hard to find a place with a classy atmosphere that's not blaring hip-hop and filled with half-exposed 20-year-olds. How they find the money to buy $12 martinis all night is a mystery to me.

Dave would be content to never leave our house and watch ESPN all night, but I work from home and every once in awhile, I need to get away from my computer and experience the real world. Being a compulsive planner, I always have a few places I've found from my Internet travels I'd like to indulge in. Enlisting the excitement of a friend, I recently convinced Dave to take us to the Edison Bar in downtown Los Angeles. Usually, this would be a wholly unacceptable destination on a weeknight, but because we could take the subway – which cut our travel time in half and allowed him to drink – he agreed to the excursion.

The fact that the bar is located in the basement of the city's first power plant was also a draw, mostly because it retains much of the architecture and equipment used in the 1920s and 30s as décor and backdrops for the bars and seating areas. We decided to go on a Thursday night when you get a 1932 Martini for the 1932 price. Paying $1.50 for two well-mixed drinks was quite a draw, since I'd usually be embarrassed to leave that as a tip. It made me want to buy a round for the house, but I don't think the bartenders would have been amused.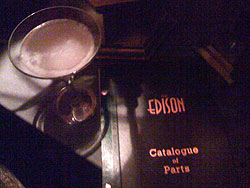 I expected the place to be busy since they aren't excepting reservations until October – it's been getting a lot of local notoriety – but it was packed to the gills at 6pm, which is hard to do, not only for a bar in an area that is only beginning to draw residents after dark, but also for a bar this size – which is massive. The place covers the entire basement of the building and when you walk down the stairs, you'd be stunned at the amount of people…if you could see them. The lack of lighting is a bit ironic for a former power plant. It felt like they were using a single 40-watt bulb to light the place, especially after coming in from the bright California sunshine.

We got lucky and found two empty chairs propped on either side of an old generator that was converted into a table. There were already several hundred people drinking away when we arrived and every other table we saw had reserved signs on them. Located within walking distance from the Courthouse, the Edison is clearly "the" watering hole in this section of town. Surprisingly, for the number of people, the service was fairly quick and the noise level still chat-able with lovely period music – jazz, blues, standards – setting the mood. Since everyone is spread out, you never felt overly compressed.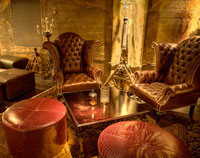 Once our eyes adjusted to the low-lighting, we were even more impressed with our surroundings. It was as if they relocated the furnishings from a classic men's club or the Polo Lounge into a crazy inventor's basement. It's both elegant and rustic, since you're eating and drinking on, or nearby, power equipment, but in comfortable leather chairs. The crowd was eclectic, but well-dressed due to the Edison's strict dress code, at least by L.A. standards. No underwear showing, no hoodies, no torn jeans, no sneakers, no flip-flops. Forcing people to be dress better probably helps make those $13 drinks seem appropriately priced.

According to the friend who joined us, that's the going rate for a cocktail in the big city. I know she's right and am glad I'm more of a wine person. I really enjoyed my 75 cent martini though I have no idea what was in it, except for the marinated cherry at the bottom. I then had to try the house special, the Edison, which I didn't really care for because I don't like bourbon. Had I read the description more carefully I would have seen that, but…all I can say is the blend of Lavender Honey-infused bourbon, pear liquor and fresh pear juice was interesting and began to grow on me once I got used to the shock of the whiskey. I also ordered The Mistress, which was supposed to be a version of the French Martini with pomegranate, but it just was a bit to bitter for me. I did finish it nonetheless.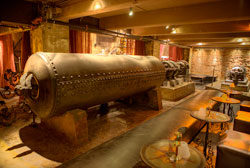 Along with the unusual libations, they also have a nicely varied wine and a strong Scotch list, which my husband happily took advantage of and Scotch lovers will rejoice in. Beer lovers also have many affordable choices. Their food menu mainly consists of bar food with some unique twists. To help soak up the alcohol, we got the charcuterie plate, the truffle mac and cheese and the flatbread with three tapenades. All were a good size for the price and satisfied our cravings for all things meat and cheese. This isn't really a place for dinner just noshing. It's going for a "speakeasy" vibe and it succeeds.
We left just as the Burlesque show started, which I wanted to see – and so did my husband once the lovely dancer started pulling off her gloves – but it was a "school" night and we had to catch our train. All in all, the Edison is definitely a must-see drinking destination with a foot in both the past and present for those finding themselves in downtown Los Angeles…even at 2008 prices,
The Edison Bar
108 W. 2nd St.
Los Angeles, CA 90012
(213) 613-0000
www.edisondowntown.com
Lisa Dinsmore is a writer and web programmer. She has her own wine blog called Daily Wine Dispatch. She lives with her husband Dave in Los Angeles.