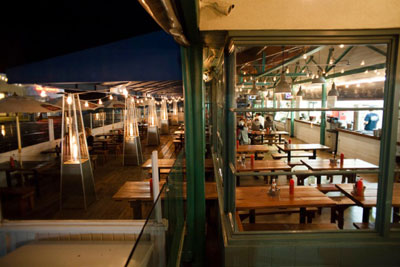 Longtime Santa Monica Pier staple, SM Pier Seafood, has officially re-launched as The Albright. After 35 years, the family-owned and operated restaurant has passed down from mother to daughter and has undergone a complete revamp - including an updated menu that reflects the new owner's commitment to using fresh, locally sourced food - and the addition of an extensive craft beer & California wine program. The restaurant is now run by Yunnie Kim Morena, whose parents opened the original location in 1977 upon emigrating to the U.S. from Korea.
The menu's focus takes a fresh, locally sourced, approach to classic items that one would hope to find on the Pier. The Albright's culinary program features everything from Spicy Seafood Soup and Kumamoto Oysters to Whole Fried Tilapia and a massive salt-water tank of live lobsters, crabs and prawns, one of the few places on the Westside with this offering. Classic favorites include, Mussels and Fries, Grilled Black Tiger Shrimp Tacos and Corn Dog Bites. Seasonal specials will also be available daily.
In celebration, The Albright will be offering a '77 throwback menu on Thursday, January 16th, to honor prices from 1977 (the year that the original location opened). Items will include:
Live Lobster & Crab: $19.77
Fish&Chips: $4.50
Chowder: $1
Bud Light: $1
The Albright is located at 258 Santa Monica Pier, Santa Monica, CA 90401.Public parking is available on the Pier or in adjacent lots. Additional information is available at www.TheAlbright.com.