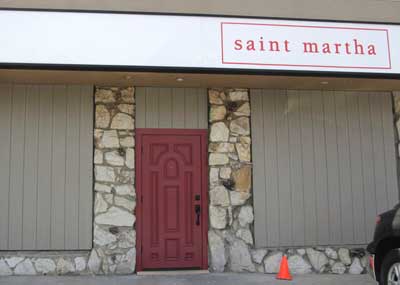 It has been a long time since I have been to a restaurant that actually inspired me to write about it. In the period of time from my last write up, I have been fortunate enough to go to a couple Michelin star restaurants, and those did not inspire me. They were great, but I think I expected it. My experience at the newly opened Saint Martha, stirred something in me that had been dormant for a while. Until now. My husband took me to Saint Martha on a Thursday evening, partly to treat me after having some tough work weeks, and partly to celebrate his birthday.
You can find Saint Martha at a little complex in Koreatown. Yes, I said Koreatown. Frankly, I think it's the only sign that is in English; that should tip you off! The restaurant is named after the saint of cooks and servers, and after some food and wine you'll think these people are all saints as well!
Sometimes, a restaurant has a wine list that shines, and a food menu that is just average, or vice versa. Not the case here. Wine and food menus can both stand on their own. The food alone was so creative and delicious.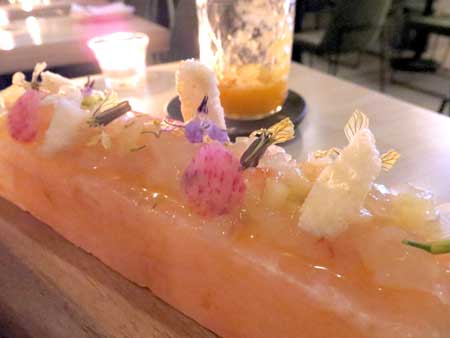 Aside from the wonderfully teasing flavors of the amuse bouche, we began with the Santa Barbara Spot Prawn tartare with market melons, burnt orange oil and pink salt.
The dish was awesome, and then sommelier Mary Thompson came in with her invisible cape and paired this dish with a 2012 Luis Agustin Cetto Chenin Blanc from Baja. This took it to a whole other level.
We were pretty much Mary's followers after the first course. We love that the wine menu is so varied and you may never really see the same wine twice. Mary explained to us that she is more of a "wine hunter" than a sommelier. She finds wines that are one of a kind, and very likely to never find again. THAT is passion.
Course after course, she continued to pair wines that just blew us away. We have not had many moments of sheer food ecstasy where both of us were happy with each course. Our favorite part of this menu is that you can have a taste (about 3 oz), a glass, a "piché" (about 2 glasses), or a bottle. This menu fits ANY budget!
We fell in love with the chef, Nick Ervin, after we enjoyed the steak and oyster tartare with champagne sabayon and bone marrow beignets. We could have just had bone marrow beignets all night and been perfectly happy. They were so soft, and full of flavor. It felt like home.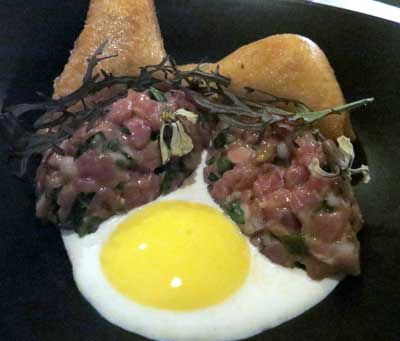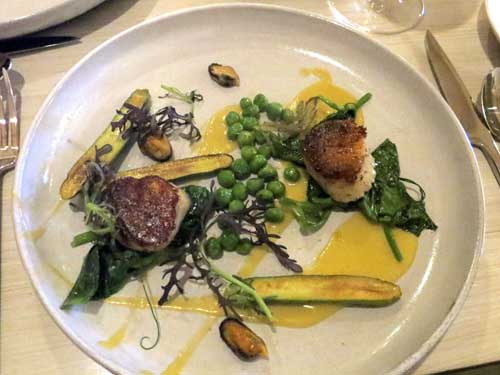 My moment of submission was when I had the Diver Scallops with field peas, courgettes, and fennel-mussel emulsion paired with a Chateau Haut-Lariveau, Fronsac from Bordeaux, France. I nearly passed out. I have never met a sommelier that paired scallops with red wine… until Mary. I must admit, I was definitely willing to try it, but a small part of me was not expecting sheer surrender. It was a superb dish with a perfect pairing.
By now, I want Mary to be my BFF! She's rad, she be-bops her head to the music, and she has a killer wine list; I also secretly want her to French braid my hair. What more could you possibly want from these awesome #cooksandservers?! As Mary recognized our flavor palate and we shared stories with her from our recent honeymoon trip to Chile and Argentina, she shared some rare finds with us.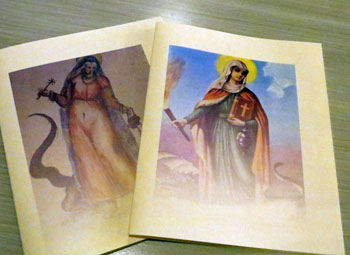 You know when you have two wine lovers on your hands when we tell you that we planned our wedding based on the South American grape growing season just so we could honeymoon during their fall harvest! Mary let us taste the Barons de Rothschild, "Le Dix de Los Vascos' from Colchagua, Chile. It was truly an amazing wine!
If you love yourself, you will eat dessert. It was only myself and my husband, but I highly suggest dinning with about 4 people so you can try all desserts, and multiple dishes. I think my husband and I will definitely be returning soon, not just for the food, but for the wonderful, eclectic wine list.
I really do not think there is another wine restaurant of this caliber, and with this much variety. We only saw one wine from California, and the only other American wines were from Oregon, Texas, and New Mexico. What? The rest are from the world over. If you are anything like my husband and I, you will probably begin to frequent Saint Martha. I just don't understand how you wouldn't.
SAINT MARTHA: 740 S Western Ave., #116, Los Angeles, CA 90005
Maylynn Jakubowski is a Spiritual Counselor that works and lives in Los Angeles. You can find her through her website, www.SpiritLightDivine.com, or find her on twitter, @oenophile79.