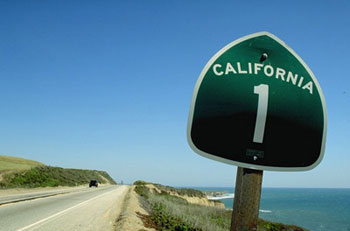 I love food. And I love going out to eat and trying new places. And I love talking about food. In fact, I love food so much that whenever I'm eating I actually try not to get too full so that I'll be able to eat again in another two hours—which is something I think I inherited from my mother. When I was a kid, I thought it took five hours to get to Santa Barbara from LA because she would take the Pacific Coast Highway and stop to eat three times. (If you are not familiar with the geography of Southern California, it shouldn't take more than an hour and a half to get to Santa Barbara).
But despite that fact that I grew up in a household where it was the norm to discuss what we were going to eat for lunch during breakfast (even if breakfast was at 12pm), I am not a foodie. I hate restaurants that pile food into thimble sized pyramids in the middle of oversized square plates. And when things like soup are served in shot glasses (unless you're Hatfield's and then you can do whatever you want). But the other night when my lovely boyfriend realized that not only did he not owe extra taxes, but he was getting a hefty refund, I wanted him to take me somewhere nice to make up for all those nights of sopitos at Poquito Mas while he anticipated paying what he thought was going to be a huge bill from the government. It turns out my step-dad is not the only man in my life who can't do his own accounting. No offense, Alan.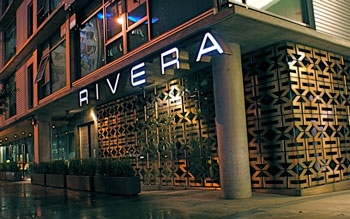 On the recommendation of someone I usually trust, we went to Rivera, a new, high-end restaurant serving "modern Latin cuisine". Usually I hate upscale Latin American food, but for once, Matt didn't argue with me about driving downtown just to go to a restaurant, so I took it as a sign that this place was going to be good. We realized immediately by the overly (and poorly) designed space that this was probably not going to be our new favorite spot, but it was late and we were hungry and maybe the food really was that good, so we let ourselves be seated—at a communal table, even though there were two tables for two that no one ever sat at the whole time we were there.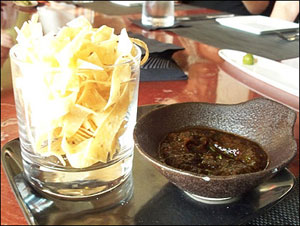 We ordered homemade tortillas and "Indian butter" which is just a fancy way of saying "a very small portion of guacomole" ($8) and chips and salsa ($4). The chips came in slivers in a shot glass. In a shot glass! I don't care how fancy your Latin cuisine is, chips should be free and abundant. I knew the night could only go down from there, but Matt wouldn't let me cancel our order. The black cod was actually good, but it just made me regret even more that we weren't at Matsuhisa, and the duck was overcooked and bland in my enfrijoladas. The drinks were the best part, and when I reflected on the misguided recommendation I had gotten, I remembered that the only thing they had raved about was the tequila and that they must have been too drunk to notice the food or the exorbitant bill.

The experience was so traumatic, we had to spend the rest of the weekend going to real Latin American and Mexican restaurants just to make up for our misspent meal. We went to Lares the next night for delicious fajitas and what I would argue are the best chips in LA and El Cholo for Sunday brunch tableside guacomole and margaritas. I got the POM one, naturally. Next stop, El Baron on Washington for late night papusas and dancing. So much for my diet.
Lares Restaurant – 2909 Pico Boulevard, Santa Monica, CA 90405-2001, (310) 829-4550
El Cholo – 1121 South Western Avenue, Los Angeles, CA 90006, (323) 734-2773
El Baron – 4212 West Pico Boulevard, Los Angeles, (323) 954-1384
Maia Harari is a writer and choreographer, born and raised in Los Angeles. You can follow her on twitter at www.twitter.com/maiacalypso