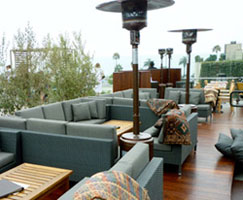 Los Angeles is a very large and fractured city. Most people, myself included, tend to play where they live because commuting is such an unknown quantity. Sure you get used to leaving yourself plenty of time to get where you're going, if you have to be on time or actually respect the people you're meeting. SigAlert.com is practically your best friend. So, even though I love a good wine bar, the opening of Sonoma Wine Garden late last summer escaped my attention. I can hardly be blamed for not knowing. It's in Santa Monica and I live in the San Fernando Valley two diametrically opposed areas. When I got an invitation via Twitter to attend a tasting put on by Vibrant Rioja (more about them later) at the aforementioned SWG, I was excited and intrigued. A new wine bar, how cool. Then I became slightly concerned. A new wine bar in the Santa Monica Place Mall?
Well, this recently completely remodeled mall is pretty upscale and far from the usual suburban nightmare, being 2 blocks from the beach and mostly open air. Once I went to their website, I realized this place had real potential. When I arrived, any doubts were immediately put to rest. Being a "wine garden" most of the seats are outside on the roof of the mall, in a setting that is both classy and cozy. Sort of like the patio of most of our dreams. While you can't exactly see the ocean, its presence is felt, which they cleverly temper with several outdoor fireplaces and enough heat lamps to make sure no one ever even has the chance to catch a chill.
There's a big bar inside with a very cleverly decorated ceiling – they've hung the tops of logoed wooden wine boxes – but why anyone would want to sit inside is a mystery to me. I suppose there are days when it rains... Thankfully, not the case the night I went. In fact, we enjoyed a stupendous sunset, which cast an additional soft, warm glow over the evening.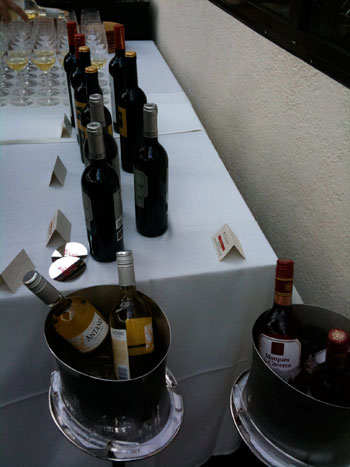 Partnering with the Vibrant Rioja campaign, they delivered a delicious 5-course tapas and wine pairing for just $40. I don't have a lot of experience drinking wines from Rioja so this was a real treat. While I do love Spanish wines, I tend to buy/drink mostly garnacha/grenache and monastrell/mourvedre. What's genius about this campaign is that it's funded by all of the winemakers/wineries in the region, giving them all equal say and exposure because they contribute equally to the success of the venture. They understand that educating people about their region is beneficial to all of them not just the major players and best done by themselves. If you want something done right...
And as people begin to taste Riojas, many will most likely explore outside of the usual suspects, thus giving the little guys more of a chance to survive. It can't be easy to get hundreds of winemakers to agree on anything. God bless them for trying. The Vibrant Rioja campaign not only holds various events to showcase the wines, but also delivers wonderful educational materials as well, allowing newbies to go as far as their interest takes them. These events are held all over the country so check out their website for more details. This campaign is a great idea executed in a very engaging way.
I thought the Sonoma Wine Garden paired the wine fairly well with the nibbles, which would have been a vegetarian's worst nightmare. but were right up my alley. It began with a cheese course of Manchego with Almonds and Mustard along with Castelvetrano olives. If you've never had these bright green babies you are missing out. Best olives ever. Could have eaten the whole bowl myself. Then the usual, but yummy Bacon-Wrapped Dates, followed by Mushroom Crostini topped with Smoked Gouda, Spicy Lamb Meatballs and finally Seared Pork Belly with Romesco Sauce.
There was plenty of food and wine to enjoy at a pace that was leisurely, but delivered the next course just when you needed it. Seconds of both were readily available if you wanted to refine your thoughts on the pairings. I tried to take notes, but am left with only impressions, as this was an informal evening with the wine, food and conversation flowing freely.
The wines poured were all everyday table wines that deliver great bang for the buck, which is why I love Spanish wines. Where else can you find top-of-the-line wines from a region for under $25? It was a great introduction to Rioja, at a price point most people are looking for right now. Since none of these bites are on their regular menu, I can't speak for that food. Yet. And it being a private party, the service was good as well. Again, not an accurate picture, but the waitstaff seemed both friendly and knowledgable about the food and wines. The regular list has about 25 wines by the glass (from $8-$18) and an additional 16 in their enomatic machines, which changes monthly and focuses on specific regions. April is Spain, next month will be wines from Australia. Their by-the-bottle offerings focus mostly on Old-World wines and styles, with any New World wines, i.e. from Califonia/Oregon featuring mainly Chardonnay, Cabernet and Pinot. Basically, hitting all the marks most people are looking for at prices that are in line for their hood.
Sure Sonoma Wine Garden may be in a mall, but you get 3 hours FREE VALET and in Santa Monica, where parking is a nightmare to find and pay for, you'd be crazy not to check it out just for that perk alone. Thankfully, they have plenty more to offer. The SWG is still fine tuning, but if this event is any indication they're going to become one of the leading hot spots this summer when people want a fun place to cool down.
For more info on their monthly events check out their Facebook Page, follow them on Twitter or go to their Website. Open Daily until 10pm, Fri-Sat until 11pm.
Lisa Dinsmore is a writer, web programmer, movie and wine lover. She currently runs two review websites to share her passions: www.crazy4cinema.com and www.dailywinedispatch.com. She is also the Managing Editor of One for the Table.