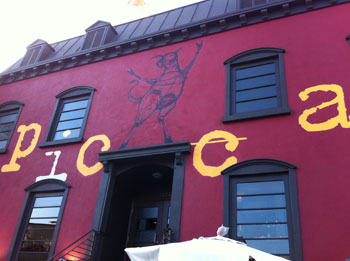 Chef Ricardo Zarate has proven once and again his blossoming creativity of modern cuisine, all while never losing sight of his roots. I had the pleasure of meeting Chef Zarate back in April while dinning at his original restaurant, Mo-Chica in south Los Angeles. I was with my parents, and we had the distinct opportunity to enjoy his company while discussing our beloved Peru. As my parents and I left the restaurant for the evening, my dad commented that Chef Zarate was so humble considering his accomplishments, and my mom said he had very kind eyes. At that time, his newest restaurant Picca was still under construction. Fast forward a few months, and we have the newest, hippest, most delicious place to dine in LA: Picca Peruvian Cantina!

While I had previously made reservations for the first week of public opening, I managed to snag a reservation at Picca for one of the preview nights. The building definitely stands out; it is painted a matte red, the word "picca" spread out on the facade, and the proud red and white Peruvian flag waving from the roof top. As you walk up the stairs, the double doors open to a beautiful open floor plan: the bar on the left and the buzzing kitchen on the right.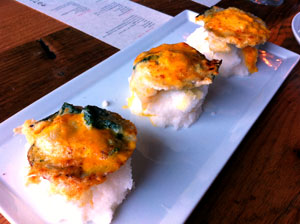 Since I was able to dine at Picca twice, I have tasted half of the menu. I'm sure I will eventually taste all of it before the year's end. The menu is a grouping of small plates sectioned by Primeras, Segundas-Causa Sushi, Ceviches & Tiraditos, Terceras-Anticuchos, Cuartas, and Ultimas (Dessert).

I enjoyed several dishes from the Primera section, but two stood out. The first was definitely the Conchas a la Parmesana. These are scallops on the half shell topped with parmesan cheese, spinach, and lemon sauce dressing. The scallops are served on top of a mountain of salt. The blend of flavors was incredible and each bite was heavenly! A true testament of Lima's thriving seafood culture.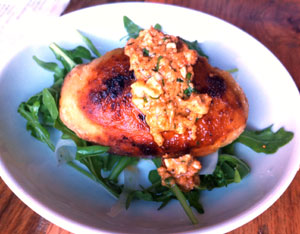 I reveled in the Papa Rellena since this is comfort food to me and I grew up with this dish, but Chef Zarate takes it to the next level with the rocoto aioli. The rocoto aioli made the dish pop and is a definite must if you dine here.

A great Segunda was the Spicy Tuna Causa Sushi. While spicy tuna tends to be quite prevalent in LA, the causa base is not. The causa is a combination of mainly potato and other ingredients. Chef Zarate managed to make this causa sushi light and flavorful despite the usual starchy base found in causa (at least when I make it).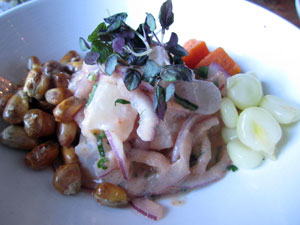 Asking me to chose a ceviche dish is like asking a sommelier to choose a favorite wine. Really?? You truly can't go wrong choosing ceviche! I had the Ceviche Crocante, and the Ceviche Mixto.
I asked my friends not to speak to me while eating my ceviche because I wanted to close my eyes and savor every delicious bite. Oh yes, get your own! Sharing ceviche is over-rated.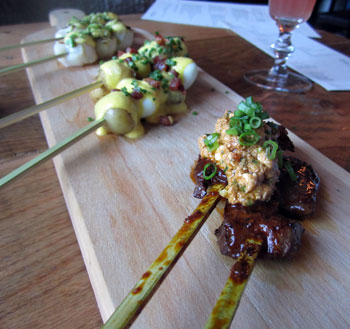 For my Tercera, I had to order "corazon" (heart). This is the traditional part of the cow from which anticuchos are made, at least in my family. I tasted other anticuchos on the menu, but the corazon was my absolute favorite.
Thankfully I had both skewers for myself since my friends were a tad disturbed that I was about to bite into a delicious, juicy heart topped with rocoto sauce. Absolutely perfect!!

Cuartas was my favorite part of the Picca experience. I literally grew up with most of the dish offerings in this section, so obviously I took my sweet time in deciding what to order.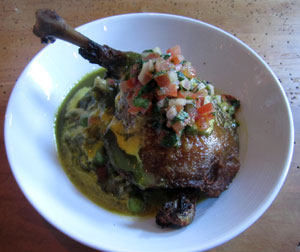 It was as difficult to choose as it was exciting, but I finally landed on the Seco de Pato. This is a frequent dish prepared within my family, but we make it with chicken. As I took my first bite, it took me back to childhood and those cold winter days where daily comfort food was a must. The duck melted in my mouth and the flavor of the rice just made me smile.
Has food ever made you tear up? It can!

Lastly, we enjoyed Ultimas. I think I take after my dad's heart because my favorite dessert was the cheesecake which is topped with a lucuma sauce. Lucuma is my dad's favorite fruit from Peru and one of mine as well.
I think I could have just eaten the lucuma sauce on its own.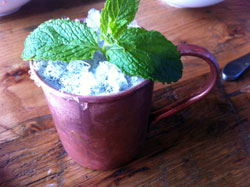 Not only is the food phenomenal, the cocktails are a hit! Julian Cox, LA's best mixologist, has teamed up with Picca to make the most unique cocktails that incorporate traditional Peruvian ingredients; pisco is found in every drink. I was very impressed with the cocktail offerings, and yes, I had to taste each one, not to forget my Cusqueña!! Maybe it was the copper cup, but the Chilcano de Anis was my absolute favorite drink. It was the most refreshing, soothing drink I have ever tasted. Perfect for the recent bout of heat we have enjoyed in Los Angeles.
All food & drink aside – I have to say it was one of the most emotionally touching food experiences I've ever had outside of my parents' house. To be transported back to Peru in a matter of dishes and be flooded with childhood memories of comfort food was an emotional roller coaster I welcomed with open arms. Picca was the whole package to me, and if other dinners are as remotely moved as I was, I know Picca's success in LA is guaranteed! Thank you, Chef Zarate, for bringing Peru to Los Angeles!
Maylynn Morales lives and works in Los Angeles county, enjoys wine road trips, international travel, foodie outings, and is a classical pianist. You can follow her on Twitter: @Oenophile79, or read her blog: TheM2Line