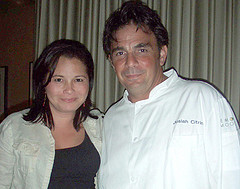 Jo Stougaard and Chef Josiah Citrin
My first taste of Chef Josiah Citrin's cooking was at the James Beard "Chefs and Champagne" event in May. Melisse served a Spring Veal with Anson Mills Polenta, Morel Essence and Red Wine Jus. I went back several times for more. My second encounter with Chef Citrin was at "Taste of the Nation". Melisse's Liberty duck breast… tender, juicy and like no other duck I'd had before. This time, I sent my husband back for seconds and thirds.
I'm embarrassed… simply embarrassed that my first visit to Melisse Restaurant was two weeks ago. It's just shameful that I hadn't been before. With all the press and chatter about French eats in Los Angeles…. from Comme Ca to Anissette… why hadn't I dined at Melisse before? It took two recent food festivals to open my eyes to this gem… a gem that's been open for almost TEN YEARS!

After making our restaurant dinner reservation (for 4), I hopped online to read reviews about Melisse. The majority were fantastic, positive reviews but the thing that made me pause, was that it seemed to be more of an "event" restaurant… a place to celebrate anniversaries & birthdays. After reading this… I sort of panicked. The reservation date wasn't near my birthday or my husbands. Our anniversary was 6 months away. Almost every review I read started with "I took my wife here for our 10th anniversary" or "I surprised my husband for his birthday".

What if the server asked what we were celebrating? What if we had nothing to celebrate? NOTHING TO CELEBRATE? I wanted to smack myself in the head. How about just being grateful that we can even GO to Melisse without it being a "special occasion". Duh. Life is good. Life is TASTY.

So in Celebration of Loving Food…. Here is just SOME of what we ate!
Note: There were four of us dining together and we shared the 12+ dishes!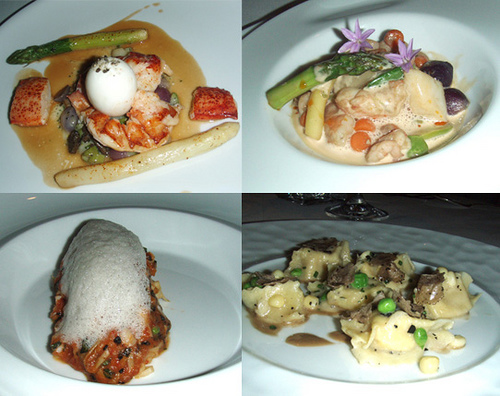 - Bacon bread. Yup. Bacon in Bread.
- Peeled half grapes rolled in goat cheese & crushed pistachios.
- Shot glass with a orange cashew foam, with a spoon of Ahi tartar on the side.
- Egg Caviar, Poached Egg, Lemon Chive Creme Fraiche and American Osetra Caviar.
- Monterey Bay Abalone, Leeks, Arbequina Olive Oil Jus.
- Sweet White Corn Ravioli… this was so good we ordered a second plate.
- Maine Lobster Thermidor.
- Sonoma Spring Lamb, Courgettes, Sweet Garlic, Nicoise Olive Lamb Jus.
- Lobster Bolognese with Cappelini, Basil, Brown Butter & Truffles.
- Veal Loin, Spare Rib and Cannelloni of Shank, Morel Mushrooms, Asparagus, Polenta.

The Cheese Course to DIE for! Livarot, Epoisses and Golden Wreath from Normandie.

Dinner was fantastic. Our server, Douglas Delancy, was attentive, fun and a great help going over the menu. He really made the evening special… even though we were the only folks there not "celebrating" anything in particular!

A cute side note… I loved that my handbag had it's own seat. Why don't restaurants do this more often? When we sat at the table, a server swooped in with a vintage stool. Even my little handbag felt special at Melisse!

We will be back to Melisse soon, to celebrate absolutely nothing in particular… except the amazing food!

Originally published on the blog FoodWhores