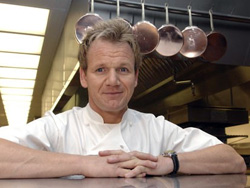 One for the Table has never engaged in deliberate snarkiness. I've certainly avoided it as I scrupulously adhered to the motto "if you can't say anything nice…" But, in this economy, I find myself being a bit cranky when certain chefs hold themselves to a particular standard and humiliate others on national television, when they themselves have a restaurant that is pitiful. Gordon Ramsay has set himself up as the arbiter of quality, but after eating at The London twice now, I can tell you The Emperor has no clothes on.

The first time I went there, I was really excited to have the English Breakfast. I loves me sausages. What I got were these dry, jerky-like, lukewarm salt tubes accompanied by a roasted tomato whose flavor was incomprehensibly bad. How can you mess that up?

The second time I went was because my daughter's admissions counselor for the college she'll be attending in the fall was staying at the Bel Age hotel where The London is located. Looking over the menu, I felt like a pinball being battered around from bad choice to bad choice.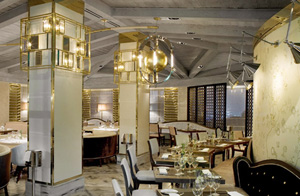 The Bento Box was intriguing to my daughter. At $30, I knew it was risky, but she didn't like anything else on the menu. I had Eggs Benedict with the customary underwhelming roasted tomato. The temperature of EVERYTHING was lukewarm. The fish in Lena's Bento Box was ribboned with fat and, well, there's no other word for it, disgusting looking. The expression on her face when the bowl of rice came was like "ah, help has arrived." But no. "How can you mess up sushi rice?" she said.
The soba noodles and the Tamagoyaki triangles looked like they were taken from an Asian market to-go container and placed in this ornamental box, thus justifying the $30! My husband Chad, had the lox with bagels and Eric, our admissions counselor friend had an omelette. Eric, being a polite Southern boy, wouldn't have dreamt of commenting on the quality of the food. Chad, who never met a smoked fish he didn't like, or a carbohydrate, was appalled.

The bill was high and as I said, in this economy, it burned me up to be served such underwhelming if not downright awful food. Moments like this remind me of the scene in Pulp Fiction where Ving Rhames is about to get ass reamed by Peter Green. I wouldn't mind replacing Rhames with a certain cocky Brit and Green with the legions of aspiring chefs whose hearts he's broken. But that's just me.
Laraine Newman is a founding member of The Groundlings Theatre Company and an original cast member of Saturday Night Live. She lives in her hometown of Los Angeles with her husband and two daughters.