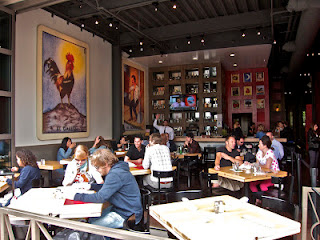 Westside fans of the Loteria Grill at the Farmers Market who lamented the long drive into LA can now enjoy Loteria's freshly made Mexican food right here in Santa Monica in the old Gaucho Grill space.

When Jimmy Shaw, owner/chef, was setting up his first restaurant at the Farmers Market, Loteria could have been nothing more than another fast food restaurant in the maze of stalls. But Shaw's graphic design in that confined space stamped Loteria Grill as smart, hip and stylish.

In the new space on the Promenade, Shaw was confronted by the realities of a difficult space.

Gaucho Grill had its fans but the restaurant on the Third Street Promenade was famously dark and claustrophobic. Shaw's solution to that limitation was to knock down the front and back walls.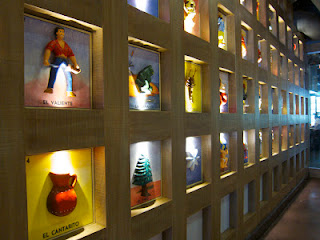 Feeling very much like cantinas I remember from visits to Mexico, the entrance of Loteria Grill is open to the Promenade. With the bar filled and diners soaking up the sun as they eat and drink, the open-air room is as welcoming as any restaurant could be.
Leaving the bar area on your way to the main dining room, you walk down a long hallway illuminated by a beautiful wall of three-dimensional loteria friezes.

Tall double glass doors protect the dining room from the commotion of the bar area. The high-ceiled room has a light, airy feeling. The space on the left is defined by the open kitchen and the busy activity of cooks and servers. On the right, the high wall is painted a dramatic, blood red.
The old, claustrophobic back wall has been replaced by a window with a view of what appears to be a carefully manicured park that is actually an alleyway.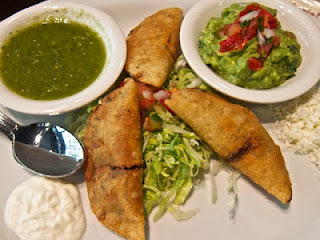 From what we tasted that day, I would recommend the Quesadillitas de Plaza, three fried masa turnovers stuffed with a delicious filling made with seasonal ingredients. This visit, the filling choices were squash blossom, roasted poblano peppers and cheese and, my choice, huitlacoche corn fungus or "truffle."
The quesadillitas had a mix of flavors and textures from the crisp masa, earthy-sweet huitlacoche filling, the salsa's mild heat and the creamy guacamole and crema Mexicana.

Whenever I am in Mexico, the one dish I always have is a shrimp cocktail. Unlike the American version, what you get in Mexico is a generous amount of freshly steamed shrimp in a chilled tomato juice "soup" seasoned with chili powder, lime, raw onions, peeled cucumber, cilantro and avocado.

You can eat the shrimp one by one with a spicy soup chaser or by placing a shrimp on a Saltine cracker with a piece of avocado and a chunk of onion.
At Loteria, the cocktail (Coctel de Camaron) is served in a large goblet, filled to the brim with shrimp, avocados, cucumber and that delicious tomato soup. Saltines are fanned across the plate like a winning poker hand.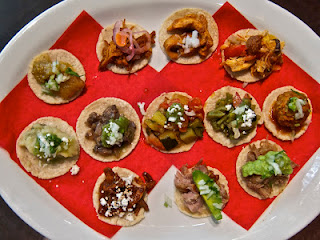 To go with the shrimp, I had a shooter of chef Shaw's special tequila, the Loteria Double Barrel Herradura Reposado (no Happy Hour 1/2 off discount for this item). The smokiness of the Heradura Reposado paired well with the sweet shrimp.
For anyone new to Loteria, I would recommend the Probaditas Sampler. A dozen mini tacos are topped with a tasting of the restaurant's best fillings and sauces. My favorite sauce is the mole poblano, with its subtle heat and deeply rich flavor.
To go with our margarita de jalapeño and tequila martini with mango, we had the Ceviche Uno, Dos, Tres. Perched on top of crispy corn tortillas, the ceviches ranged from red snapper with fresh tomato, tilapia and cilantro and shrimp with sweet mango and fiery chile habanero.

Restaurant reviews are appropriately criticized for inflated or over-enthusiastic language, but I can honestly say, the cocktails and ceviches were a riot of delicious and satisfying textures and flavors.
For a main course, you can't go wrong with enchiladas, especially when topped with the mole sauce. Although it isn't a main course, the sope with chicken or pork is also delicious.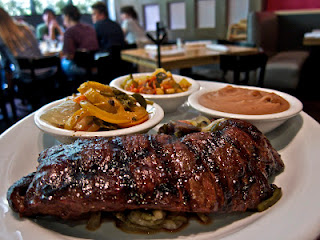 If you're a hungry meat eater, the flank steak is very good. Carne Arrachera a La Parrilla comes nicely charred. A heavy steak knife accompanies the large piece of meat.
The dish also comes with sides that include refried beans, spicy escabeche (pickled onions, carrots and yellow peppers), potatoes with poblano peppers, zucchini & roasted corn and a generous amount of caramelized onions resting underneath the steak and soaking up all its fragrant juices.
My favorite way to eat the steak is to tear off a piece of freshly made tortilla, smear on some refried beans, add a thin slice of steak, a few strands of caramelized onion and a bit of escabeche. I slide the flavorful packet into my mouth, chew, enjoy and do it again. It's a little time consuming, but this way I savor all those wonderful flavors in each and every bite.
For dessert there are daily specials, mostly of the rib-sticking kind (flourless chocolate, caramel or tres leches cakes). I am told the tequila ice cream is good. That wasn't available so we had the Mexican sweet cheese ice cream (Helado Chongos), a thicker version of vanilla and very good.

Loteria Grill Santa Monica (1251 3rd Street Promenade, 310/393-2700) opened just after Mother's Day. The restaurant and full bar are open 7 days a week, Sunday-Thursday 11:00 AM to 11:00 PM and Friday-Saturday 11:00 AM to Midnight.
David Latt is an Emmy-award winning television producer who turns to cooking to alleviate stress. He shares his experiences with food and his favorite recipes on his blog Men Who Like To Cook.