When I originally conceived of taking a self-led tour of the LA food trucks with some friends it was to see who was trying to capitalize on the success of Kogi BBQ, the crossover Mexican-Korean taco truck, and their use of Twitter to let people know their current location. Supposedly Kogi is the originator of the hip and cool LA food truck and, as some have told me, has the best food of all the taco trucks. My plan was to find trucks that had just rolled out, are newly popular, or ones that I know nothing about and see if Kogi would hold up against the rest.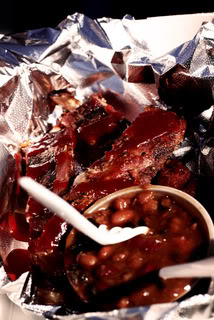 My food truck team consisted of seven diverse and discerning palettes including a maitre fromager, a chef, a pastry chef, a hungry stoner and a guy who makes the biggest sandwiches I've ever seen, but seems to gain no weight. We started our glutton-fest at Barbie's Q who was parked at T-Lofts in Santa Monica (11500 Tennessee) where food trucks hang out every day. The big green truck has a pin-up girl and the slogan "A Rollin' BBQ Joint" on the side and is a clear representation of the owner. John, who insists that the pin-up on the side is not his daughter, takes everyone's order while standing in front of his truck so he can shake hands and show off his fluffy white mustache.
The St. Louis ribs were sweet, juicy, and did the fall-off-the-bone thing that grosses out my vegetarian girlfriend. It was my favorite dish of the day (out of the two dozen things I tried). We also tried three kinds of deliciously simple sliders (chicken, pork, or beef, sauce, and a bun), potato salad that was thankfully dill heavy and mayo light, and some baked beans that were best consumed when poured over a slider.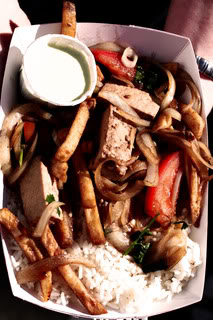 Food trucks like to travel together on the weekend in hopes of luring foot traffic from their friends. They all seem to be in some kind of mutual respect club where they share tips on the best places to park and provide each other lunch. Their open friendliness makes their gatherings feel like a block party. Parking with Barbie's Q this weekend is a new Peruvian and Japanese inspired truck called Lomo Arigato.
The owner, Eric, is a young hip Asian guy who says that watching the quality of food go out on carts in Japan inspired his truck. The Lomo Saltado, one of only three dishes offered, is tofu (although you can get tri-tip or chicken) sweet seasoned and wok'd onions, tomatoes, cilantro, French fries, red wine, and soy sauce on Peruvian rice. It was sweet without being sugary and intensely flavorful. The French fries were still crisp and added a much needed crunch to the dish.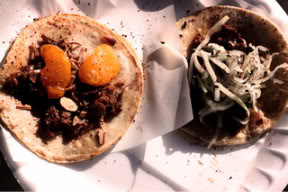 After an hour of food trucking already stretching our belts we headed to Abbot Kinney where The Flying Pig, Little Spoon Desserts, and Kogi BBQ were catering to lines of cyclists, young window shoppers, and parents drinking Intelligentsia coffee with young kids wearing Toms. Lana, a relaxed rock and roll spokeswoman from the pepto pink truck The Flying Pig, let us know that all Flying Pig employees are Le Cordon Bleu graduates and give the truck a French flare. The Tamarind Duck taco with toasted almond and a pickled beat salad on top was a favorite among everyone and, as Lana reports, their most popular dish.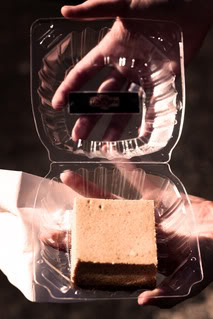 The Little Spoon Desserts truck is different from most other trucks because, as owner Melissa tells me, they don't bake or cook anything on their truck. It's all premade in her kitchen and then distributed on the road. This takes a few points away from the made-on-the-spot novelty, but the desserts are fresh and delicious. The tiramisu was creamy, but not heavy. The cinnamon on top adds subtle flavor. More impressive than the food is Melissa, who just graduated college, bought a food truck and started Little Spoon Desserts on her own.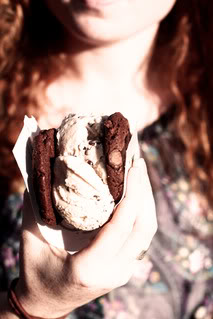 At this point we were all getting full and lethargic, but trekked on to our last stop Cool Haus. This mini truck with fat five spoke chrome rims is owned by a former architecture student named Natasha. Her passion for architecture inspired the theme for Cool Haus which mixes gourmet ice cream and cookies with famous architect's names (see: I.M. Pei-nut butter). Natasha's favorite is the Dirty Mint Chocolate Chip and is called that because she uses real mint leaves and brown sugar. I usually hate mint ice cream, but this one actually tasted like fresh mint and not a menthol flavored popsicle like most mint snacks. The Italian style brioche and peanut butter sandwich was velvety and rich. The standout was the Guinness ice cream that actually tasted like the beer and had a little flavorful foam when you ate it. The Cool Haus truck is very cool and Natasha sitting in the mini-truck's window serving patrons is a funny and personal touch.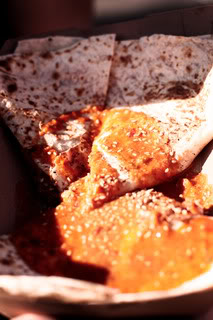 Kogi BBQ, the truck that inspired both this tour and many of the trucks out there, declined to be interviewed. The manager sited "corporate policy" saying, "All interviews have to go through our main office first." Regardless of that disappointment we tried a kim chi quesadilla that was strangely sour and a couple of spicy beef tacos that were tasty, but didn't stand out amongst the field.
What my friends and I found out is that Kogi BBQ has a good taco, but every other food truck we visited had better food, a more interesting concept, and a friendly local owner with great personality and ambition. The LA food truck tour was a fun way to meet the proprietors of five trucks who were more than happy to talk about their food and how much fun they are all having meeting people and feeding hungry crowds. Although I thought these trucks were trying to capitalize on a novel idea they are also driven by passionate owners who love their businesses and the people who come to visit them every day. We only touched the surface of the ever expanding and possibly over-saturated food truck industry, but I am thrilled by the quality of food and service these businesses are providing their communities.
Terry Wunder is a Program Director at the American Jewish University in Los Angeles. You can read his blog at www.terrywunder.com.
Photos by David Starkopf Photography