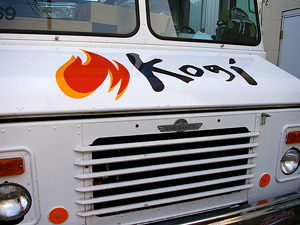 The Kogi Taco Truck made me miss being in my twenties. Especially over the last couple of months, since I started following their Twitter updates on my cell phone. Late at night I'd be in bed reading a book, and have to stop so I could see the incoming Twitter text: "10PM-2AM@The Brig – Abbot Kinney and Palm in Venice". I couldn't stop wondering, "Who ARE these people partying EVERY night of the week, chasing down the Kogi taco truck at 2AM?
It was sort of depressing, because I wanted to be out there chasing the truck too, but then again, I didn't want to be OUT THERE chasing the truck (or chasing anything for that matter). The Alibi Room in Culver City actually runs a Kogi kitchen (monday thru saturday), but still, I had no desire to fight rush-hour traffic and wait in a ridiculously long line, just for a TACO.
I admit it, at 45 years old, I'm definitely more of an OpenTable, "reservations a month in advance" sort of eater these days, but of course, that wasn't always the case.
Shortly after I turned twenty-one, I moved to Pacific Beach in San Diego, then spent the next couple of years partying non-stop with my friends. Our days consisted mostly of working in retail during the day, sunning ourselves on our days off and planning "girls night out" EVERY single night of the week.
Most of us were on pretty tight budgets, but we knew which beach bars served free "happy hour" food (drinks bought by the fellas), and it usually consisted of nachos, taquitos or plates of bacon-topped potato skins. Remember when potato skins were the cool, new appetizers?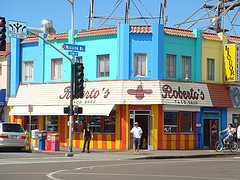 Our favorite drinking holes back then were places like the Beachcomber or the Pennant, and we never missed a Tuesday $1 Margarita night at Diego's on Garnet Avenue. Quick trips to Mexico for cheap lobster and margaritas were followed by dancing all night at the local clubs.
These nightly adventures always ended with a trip to Roberto's Taco Shop in Mission Beach, which was steps from the shore, next to the aging Big Dipper roller coaster. The giant, carne asada burrito was my favorite and I always ordered it with extra guacamole. I can't recall ever eating there during the day, or going there sober for that matter, but back in the day, Roberto's Taco Shop was MY Kogi.
If you're not familiar with Kogi BBQ, then you probably don't live in the Los Angeles area. The first time I read about Kogi was on an EaterLA/Lesley Balla post back in December (boy, do I miss her on Eater these days). Ever since then, Kogi has been the "it" taco truck in the city, offering the flavor of spicy Korean barbecue, conveniently wrapped in a fresh tortilla. Kogi gained even more followers when they started using Twitter to communicate upcoming locations with their customers. It was a simple (and brilliant) way for Kogi to keep in contact with hungry, usually late-night, eaters.
Last Thursday, I just happened to be reading the Kogi website, when I noticed a post titled, "What 20 Bucks Can Buy You", and was thrilled to learn that it was for a fundraiser in nearby Burbank the same evening. The Gina Alexander Philanthropy Project partnered with Kogi to offer All-You-Can-Eat Kogi tacos for $20, with the proceeds benefiting the Center of Hope Village (for abused children) in the Philippines.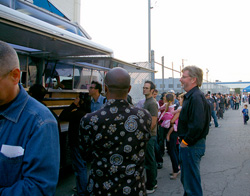 I called Peter and made sure he could make it home early so we could finally try the now-famous Kogi tacos together. Just last week the Kogi truck had been on the Fox lot where he works and he hoped to try it then, but the line was just too long for a my workaholic husband, who doesn't like to break for lunch anyway.
We arrived at the event 30 minutes early, and after paying our $20 donation (each), we headed for the Kogi truck line, quite pleased to be very close to the front. It was another hour before the truck actually showed up, but there was plenty of entertainment to keep us occupied (photos below), and we didn't mind because it was all for a good cause.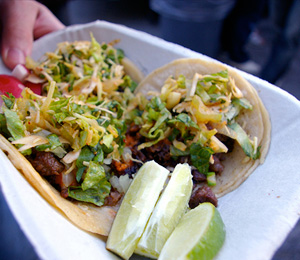 Peter and I both ordered two Korean Short Ribs and one Spicy Pork. The All-You-Can-Eat Kogi Taco offer, was limited to three at a time, which made sense because when I looked back at the line behind us, there must have been at least 150 hungry people waiting on the street.
The tacos were terrific (LOVED the spicy pork), and we were content with the three that we tried. Of course if we didn't have to get back in line and wait again, we would have definitely made it a furious pig-out session, but mostly it felt good to make the donation (Peter later told me he slipped them another $20), and to FINALLY get a taste of the Kogi phenomenon!
Afterwards we headed home, took our pups for their evening walk, and then I fell asleep next to my husband reading my favorite, new book. And guess what? I was tickled pink, NOT to be in my twenties again.
– Also published on MyLastBite