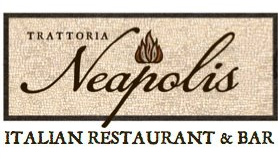 Sometimes it pays to be in the right place at the right time. In the case of the epic, pre-opening meal I got to enjoy at Trattoria Neapolis last week, I just happened to be at home to get the call. Our friends think we eat out all the time, but our "foodie" cred is mere illusion. Yes, we like to eat well when we go out (who wants to get dressed up and fight traffic for a mediocre meal), however, to us the wine/beverage program is just as important and finding places that are impressive on both the food and beverage sides of the menu are rare.
I knew nothing about this new Pasadena eatery before I stepped through the door. I was suitably stuffed and excited when I left. The space is sophisticated, yet inviting, with many different areas to choose from - the bright and airy Garden Room, the cozy booths in the bar area, the semi-private upstairs balcony and my favorite the brick-walled wine room. It's an impressive space with many touches imported from and evoking Italy in a modern way.
It has been a 10-year labor of love for restaurateur Perry Vidalakis who traveled all over the Italy and the United States researching how to blend his love of Italian food and style with the life and style of Southern California. Most of the menu is familiar, yet the execution - by Chef Bryant Wigger - utilizes techniques and local ingredients that put his own fresh spin on the traditional fare.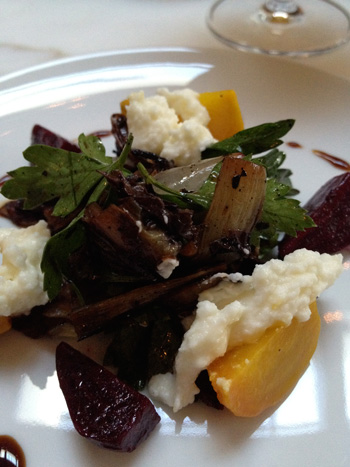 Along with an imported 7,000 pound Neapolitan wood-burning oven - which will be used exclusively for pizza - the kitchen will also be making their own bread and pasta daily, as well as their own salumi and occasionally their own cheese like the goat milk ricotta that accompanies the Roasted Baby Beet Salad with Grilled Treviso - one of the best dishes of the night. It hit all the right notes - earthy, smokey, sweet and tangy with the lemon-zest-infused cheese the perfect counter balance of creamy goodness.
Over the course of the evening, we got to try something from every section of the menu - from antipasti to dessert - paired masterfully by the beverage team, which is a Who's Who of the top Los Angeles beer, wine and cocktail slingers. Each program has someone dedicated to making their list shine with both unique and classic offerings. I'm usually a wine girl all the way, but from the first course to the last I was surprised and delighted with what was in my glass, which are imported from Italy and perfectly suited to each type of beverage. A classy touch that deserves praise and is too often overlooked in my opinion.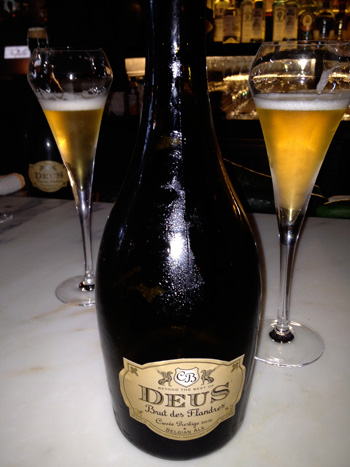 The night began with what looked like beer, and was in fact beer, that came out of a champagne-style, corked bottle clearly modeled after Dom Perignon. From Belgium, the Deus Brut des Flandres is made in a new style called Biere de Champanoise. First brewed in Belgium the beer is transferred to the Champagne region where it undergoes the traditional champagne process (dosage, secondary fermentation in the bottle, riddling, etc.), refining the carbonation and creating a lovely, light blend of the best of both styles. I could have drunk the whole bottle myself it was so intense and refreshing, yet the fine bubbles made is seem elegant and rich. At 11.2% alcohol and at a price tag of $65, this is not a beer to be taken lightly (or in everyone's price point), however it sure helped start out the evening with a bang or pop, as it were. After something so interesting I knew I was in for a real treat. These people were not screwing around.
While I don't often drink cocktails, I am a sucker for anything containing Aperol or St. Germain. These two liquors are currently experiencing a resurgence in the US and I couldn't be happier since I can't/won't be jumping on the Rye/Bourbon/Scotch bandwagon. Ever. The cocktails created by Vincenzo Marianella, who was recently nominated for American Bartender of the Year, are a nice mix of Italian and American classics as well as some originals that blend the two. Broken down into 5 sections - Refreshing, Sparkling, Aromatic, Classic and Bespoke (a personal creation they'll make just for you with your favorite spirit. Sort of a test the bartender surprise).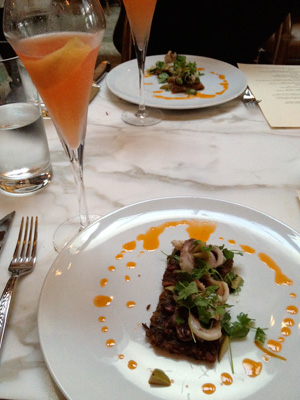 I usually find one or two cocktails on a list that entice me away from a glass of vino. This one has 2 in every section I would love to try. The Affogato has a scoop of chocolate gelato in it. Enough said. However, if you go in ask for the Ostuni. It's not currently on the list, but my God it should be. A refreshing blend of Partida Reposado Tequila, Aperol (can't resist), Ruby Red Grapefruit juice and Prosecco that I could drink all day. Intense, tart and deceptively light enough to be seriously dangerous. I will be trying this to concoct this one at home. It was surprisingly delightful with the Wood Grilled Octopus on Crispy Potato Torta with Sweet Tomato Oil.
Led by Christina Perozzi, one of the best beer sommelier's in LA, and her partner Hallie Beaune (known as the Beer Chicks) the beer program focuses on the best of both Los Angeles and Italy. On tap are 14 LA-based brews from places like Craftsman Brewing Company (Pasadena), Eagle Rock Brewing Company, El Segundo Brewing Company, Golden Road Brewing Company and Smog City Brewing. The furthest away is Black Market Brewing from Temecula. The bottle list is strictly Italian craft brews, many that Perozzi discovered on a recent trip to Italy, which is apparently experiencing a beer renaissance. I'm not usually a beer-drinker, but after the Deus I was excited to try her pairings.
The first was the Blond-5 from Brouwerji West with Roast Garlic Gnocchi and Smoked Pork Shoulder. It was good with the beer complementing the smokiness of the meat and cutting the garlic. However, it was the second course - Wood Grilled Summer Vegetable Lasagna with Mascarpone and Sun-Dried Tomato Pesto paired with a beer from Torino called Birreria Le Baladin from a brewery called Nora (which also came in a big, champagne-shaped bottle) - that proved to me that wine may not always be best pairing for pasta…or any dish for that matter.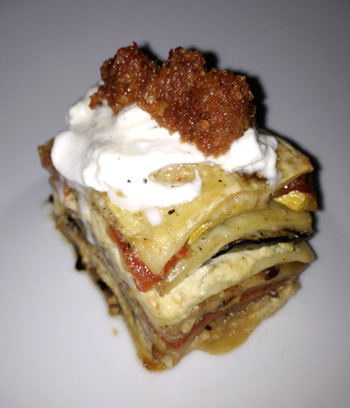 Bold and spicy, brewed from an ancient Egyptian recipe using kamut with flavors of Myrrh and ginger, it was perfect with the grilled eggplant and pesto. That the lasagna had only three layers of actual pasta was a feat of genius. The chef purposefully crafted it to be lighter and more delicate than the usual gut-buster, but it still tasted decadent and flavorful. It was my favorite course. Lasagna is back without all the guilt.
Being a wine geek, I'm especially critical of wine lists. I always look at them first when I'm researching a new restaurant. I love good food, but drinking bad wine with it can ruin even the best efforts. Most are boring or pompous, leaving few choices for those just looking for an interesting bottle at a decent price. By the Glass lists are the worst offenders. Mediocre and over-priced is the norm. Not here. Wine director, Diego Mareviglia is a 4th Level Sommelier and Vice President of the North American Sommelier Association, so he clearly knows about wine.
How does that translate to Neapolis? With a 50 under 50 bottle list of both Californian and Italian wines, as well as a larger reserve list (with the usual Italian heavy-hitters), he manages to cover a lot of ground. What makes this list better than most, is his California/local selection, which aren't the wineries you normally find at a restaurant like this. They were a bit shocked I was so familiar with their choices, but glad I was impressed as well. To have a mourvedre and a grenache blanc available by the glass is a rarity and brought a smile to my face. As did the names Erath, Stolpman, Jaffurs, Broc Cellars and Tatomer. The Italian side has equally, off-the-beaten-path delights with a Falanghina, Pecorino (not the cheese) and Vermentino gracing the BTG list. Thoughtful and intriguing is all I ask for when I'm spending money on restaurant wine. I could drink happily here.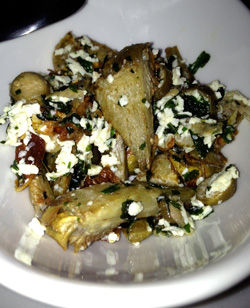 The pairing of the 2010 Copain Chardonnay with the fish course of Pan Roasted Black, Charred Sweet Corn and Manila Clams was spot on. I'm not a big fish eater, but I cleaned my plate. And this was the sixth course. Though a California chardonnay this is not the usual oak/butter bomb. The crisp, citrus and mineral flavors were lovely and balanced. Of all the pairings this was the most seamless. Food and wine uniting without either overwhelming. Each bringing the best out in each other.
The wine was equally good with both side dishes - the Roasted Fennel with Toasted Pistachios and Tangerine Jus and the Crispy Artichokes with Caper Berries, Ricotta Salata and Mint. Not an easy task for one wine and it more than held its own. If this was the last course I would have eaten all my vegetables, they were so good.
The meat course - Wood-grilled Wagyu Flatiron Steak with Crispy Honey Onions, Salsa Verde and Porcini BBQ Sauce - was a bit hit and miss for me. I'm a sauce girl all the way, but these two flavors, while good on their own, didn't really work for me on the same plate. I would have rathered one or the other. With the wine, a 2008 Buglioni Valpolicella Ripasso, I preferred the Porcini sauce which contrasted nicely with the overt fruitiness of the wine.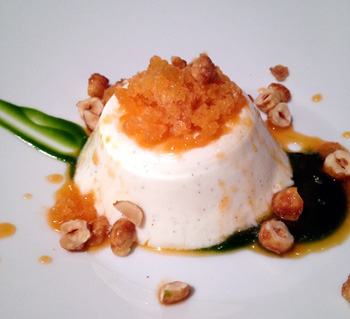 The dessert had the same problem. One too many elements on the plate. I LOVE Panna Cotta and this version made with honeyed Greek Yogurt was light and creamy. I enjoyed the hazelnuts and apricot granita that were sprinkled on top. What struck me as out of place was the the herbaciousness of the Basil Gelatini. It didn't need it and it did not pair well with the 10-year-old Marsala paired with the dish. The rest of the elements synced with the wine just fine. I like that they're trying to be different, but sometimes simpler is better.
Since the restaurant isn't due to open until July 16th and this was their first service ever, I think overall it was a thoughtfully prepared, lovingly executed meal. There are still some things to be worked out I'm sure, but at least the staff at Trattoria Neapolis is trying to deliver a top-notch dining experience on every front and that's something to be applauded. I will be back. That pizza oven is calling my name.
Trattoria Neapolis - 336 South Lake Avenue, Pasadena, CA 91101 - (626) 792-3000
Lisa Dinsmore is a writer, web programmer, movie and wine lover. She currently runs two review websites to share her passions: www.crazy4cinema.com and www.dailywinedispatch.com. She is also the Managing Editor of One for the Table.